New Zealand and sustainable urbanisation – a state of the nation report for Habitat III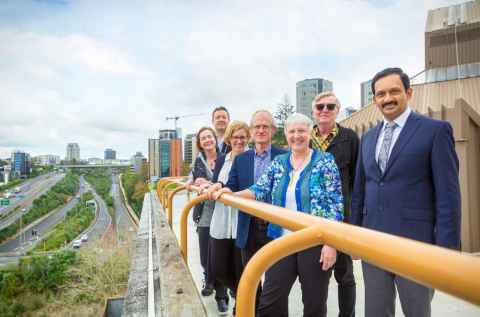 Professor Dory Reeves (centre), Dr. Stephen Knight-Lenihan, Dr. Asif Khan, Dr. Manfredo Manfredini and Melanie Milicich (Urban Research Network), Architecture and Planning, Faculty of Creative Arts and Industries, with Associate Professor Jenny Salmond and Associate Professor Ward Friesen, Environment, Faculty of Science.*
Our highly collaborative group carried out research filling an important gap in the run up to Habitat III, the United Nations conference held every 20 years on sustainable urbanisation. Our report on the sustainability of New Zealand's cities and communities provides a benchmark statement which can be used to assess progress. While the Government did not engage with this process, our report showed how academics and researchers from around the country can work effectively together.
It included contributions from Universities of Otago, Waikato, UNITEC, AUT, Massey, Lincoln and Cambridge, and from Eaqub, Ecological Foundation, Compass Housing Services, and Wellington Region Emergency Management Office. The eSocSci platform for the social sciences provided a means of connecting online. Sustainable urbanisation will help address climate change and the SDGs, and New Zealand has an important role to play despite its size.
*Also in the team, but not pictured, are Dr Emilio Garcia, also Planning and Architecture, Faculty of Creative Arts and Industries, and Associate Professor David Grinlinton and Dr Kenneth Palmer, Faculty of Law.