The University of Auckland Society farewells its long-standing Patron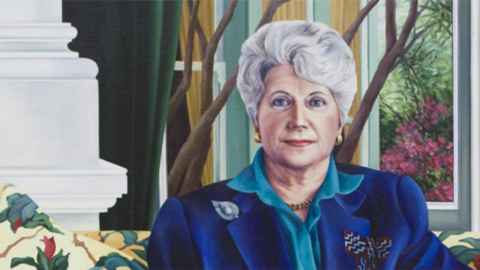 When Dame Catherine Tizard ONZ, GCMG, GCVO, DBE, QSO, DStJ agreed to become the University of Auckland Alumni Association's first Patron in 1991, it continued a decades long association with the University and marked another 'first' in her life.
Auckland's first woman mayor and Aotearoa New Zealand's first woman Governor-General entered Auckland University College to study zoology before leaving to marry a young history lecturer, Bob Tizard. She would return to complete her degree, a BA majoring in zoology, with four young children, and her husband now an MP. For 20 years she tutored in zoology until she was elected mayor in 1983. As mayor, she was a member of the University Council until appointed Governor-General in 1990.
It was while she was mayor that she first became involved with the Alumni Association, working with the then Chancellor Judge Mick Brown to raise the profile of the Association within and outside the University. Always interested in promoting education, she was keen to use alumni for the University's advocacy work in the development of national education policies.
"Her contribution to the University of Auckland was huge and spanned many levels. The Alumni Association, now known as the Society, was but one," says Christine Keller Smith, who as the Association's newly minted alumni officer first approached Cath as mayor to become involved. "I remember her unfailing support and energy and wonderful sense of fun, her glamour as Patron giving out Alumni Awards at the annual dinners, and her down to earth chats on career advancement for students and alumni, her Alumni News contributions, and her hands-on involvement in most of our activities when we were but one of the many organisations she supported."
Dame Cath once described her career as a series of "happy accidents".
"I was born averagely intelligent, averagely healthy, averagely good-looking, and into an averagely sane family," she said. "In many ways I feel I have lived an ordinary, typically New Zealand life, with nothing ostentatious or remarkable about it. Yet things have come together remarkably well for me."
In fact, there was nothing accidental about what she achieved. She was well prepared for the doors she opened, showing the way to young women who would follow. She is remembered by those who knew and worked with her as intelligent, practical, straight talking and with a very quick wit.
Dame Catherine Tizard died at home on 31 October surrounded by her family.