Learn a new skill, improve an existing one, meet new people and have fun!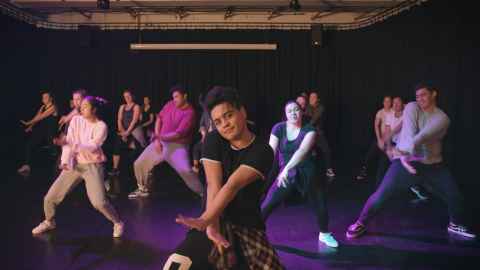 Our dance programme is open to both members and non-members of the Recreation Centre. Choose from a range of dance styles taught at an open level by national and world class dancers. This programme is an effective way to have a go at dance styles you have always wanted to try but didn't know where to start.
Sessions:
Burlesque with Kendall, Tuesdays 4.00pm – 4.55pm     
Hip Hop with Leighton, Wednesdays 6.00pm – 6.55pm      
Contemporary with Madison, Wednesdays 7.00pm – 7.55pm
2021 Programme Dates:
6 weeks starting week of August 9 through September 27
Pricing:
UoA Student: $69 for the six week block
Non-student: $99 for the six week block
Bookings are essential and conditions apply.
Location:
Trial classes are available for $15. Trials are only available during the first two weeks of each 6 week block. Bookings are essential and conditions apply. Email recprogrammes@auckland.ac.nz to find out more or to register for a trial.

Frequently asked questions
Do I have to be a member of the Rec Centre to join the dance programme?
No, you don't need to be a member of the rec centre to enrol in our programme. The programme is open to anyone. UoA students have a discounted price whereas non-students and non-UoA affiliates have a standard rate.
Can I trial a dance class first?
You can trial our dance classes for $15 before registering for the full course. However, our classes have limited spaces available with these spaces offered to full programme participants first meaning your trial space is not guaranteed. For any successful trials, we deduct the $15 trial fee from the remaining programme balance. Bookings are essential for all trials via recprogrammes@auckland.ac.nz
What if I can't make it to all of the classes?
We understand that sometimes things come up and considering the nature of our institution we have set our programme pricing structure to reflect a missed class or 2. We are unable to offer make up classes or refunds due to the limited registration capacity. We appreciate your understanding. 
What do you need to wear?
Comfortable clothing, barefoot, socks, sneakers or dance heels (please ensure no stilettos and must include heel stopper).
Where are the classes held?
Burlesque classes are held in our Group X Studio at the Rec Centre 70 Stanley Street, Auckland CBD. Our Hip Hop & Contemporary classes are held in the Dance Studies studio, Building 113, City Campus
What dance experience do I need?
Our dance programme is a recreational programme for social involvement. No prior dance experience is required as the classes will provide a variety of options to suit all levels. The programme is taught at an open level in a friendly and welcoming environment for everyone to join.