Meet Tom, one of our fitness instructors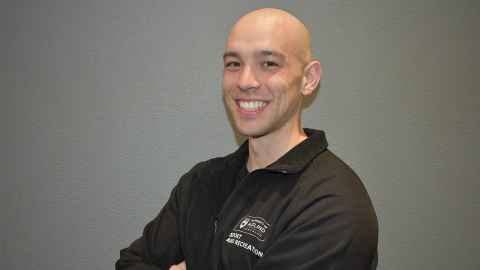 Meet Tom
What made you get into the fitness industry?
After studying in the Philippines I found I was really interested in anything sports and fitness related. It's all I would watch or do outside of uni. So it was natural for me to pursue a career in the fitness industry.
What do you like about the Rec Centre?
The unique relationship between members. Most people at the University gym have some common ground - whether they are studying the same degree, friends, professors, or acquaintances. Also, many of our staff themselves are uni students which makes our interactions easy-going.
What kind of training do you like doing?
I love hypertrophy training! Using light weights and correct form with time under tension. I think anyone can grow muscle, but not everyone has the skill to grow muscle proportionally, in the right places.
What do you do in your spare time?
Apart from anything exercise related, I like to read books, watch sports, and get out of the house to go for walks.
Tom's favourite recipe at the moment
SkuxxMuffins - I eat these everyday!
Wet ingredients:
1 cup mashed ripe bananas (about 3 medium ripe bananas)
¾ cup natural creamy or crunchy drippy peanut butter
2 large eggs
¼ cup maple syrup
2 teaspoons vanilla extract
1/2 tablespoon dairy free milk of choice (I like almond milk)
Dry ingredients:
1 cup oat flour (you can make your own)
1 teaspoon baking powder
½ teaspoon cinnamon
¼ teaspoon salt
⅓ cup mini chocolate chips (dairy free, if desired, plus 2-3 tablespoons for sprinkling on top)
Instructions:
1.     Preheat oven to 350 degrees Line a 12-cup muffin liner with muffin liners and spray the inside with nonstick cooking spray to prevent muffins from sticking to liners.
2.     In a large bowl, mix together the mashed bananas, peanut butter, eggs, pure maple syrup, vanilla extract and milk of choice until smooth.
3.     Next stir in the oat flour, baking powder, cinnamon and salt until smooth. Fold in the chocolate chips. Evenly divide batter into muffin liners.
4.     Bake 20-25 minutes until toothpick comes out clean. Transfer muffins to wire rack to cool and enjoy! Makes 12 muffins.
Favourite workout at the moment
Abs & Calves
Can I get a lesshgoooooo?? My favourite combo.
Ab circuit
Please perform 10-15 reps of each
Crunches
Twisting crunches
Heel touches
Ab leg raises
Supermans
Plank (30s)
This will be 3 rounds. Rest only between rounds. If you become tired between each exercise, feel free to take a 1 minute rest. Take as much time as you need between rounds as you like.
GHD Side Crunch - 3 sets x 10 reps
Wooden Bar Ab twist - 3 sets x 10 reps
Wooden Bar Ab twist - 3 sets x 20 reps
Single Leg Calf Raise - 3 sets x 15 reps (REMEMBER: roll over your big toe)
Leg Press Calf Raises - 4 sets x 10 reps (Overload with heavy weights. Perform 5-10 partial reps at the end of the set)
Standing Calf Raises - 10 sets x 10 reps (No rest. 10 sets 10 reps while intersetting bodyweight calf raises)
Seated Calf Raises - 3 sets x 20 reps
Stair Calf Raises - Perform 5 reps on each step before moving up on step until you reach the top of the staircase.