Make the most of your lunchtime and get outside for a walk in the fresh air.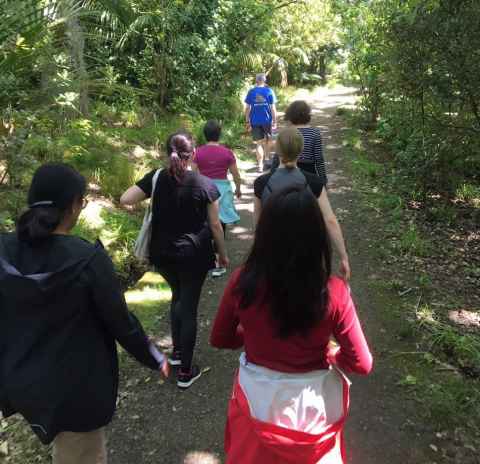 This is a free programme to join with the goal simply to get you moving and networking throughout the course of a programme block. 

The walks last 30-45 minutes and they're a great way to beat stress while helping you to get fit and keep active.
We walk within the vicinity of campus, offering a convenient exercise option for everyone. 
Whether you are a seasoned walker or interested in the social element, join in for some fresh air and low impact feel-good activity.

2022 Programme Dates
Our Health and Wellbeing Coordinator, Emma or Senior Gym Instructor, Stefan will lead you through various walks around the city. A great chance to make the most of the warmer weather, fresh air and networking while being active! 

Semester Two dates:
Block 1: August 8 - September 11.
Block 2: September 12 - October 23
| Schedule | Location | Meeting point |
| --- | --- | --- |
| Wednesdays 12.05pm | City Campus | General Library entrance |
Bookings are required for attendance (also a great for keeping yourself accountable!)
Click one of the following links to download the app.
       -  For Android users  - click here.
       -  For Apple users - click here.
Sign up using your university credentials.
Select 'Classes' and select 'Walk the Talk' in the calendar to book.
You will find all of your bookings under the 'My Bookings' tab.
If you cannot attend please cancel your spot via the 'My Bookings' tab.