Make the most of your lunchtime and get outside for a walk in the fresh air.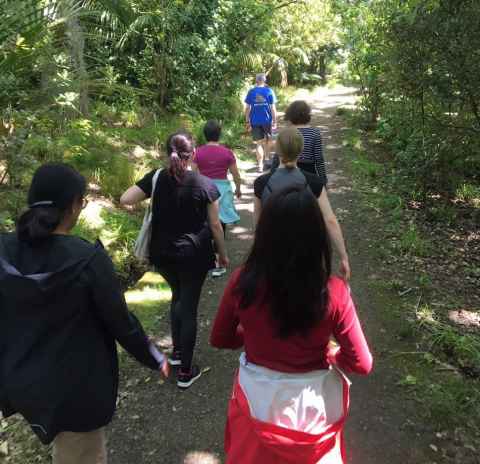 This is a free programme to join with the goal simply to get you moving and networking throughout the course of a programme block. 

The walks last 30-45 minutes and they're a great way to beat stress while helping you to get fit and keep active.
We walk within the vicinity of campus, offering a convenient exercise option for everyone. Groups at City and Grafton Campuses meet weekday lunch times.
Whether you are a seasoned walker or interested in the social element, join in for some fresh air and low impact feel-good activity.

November Walk Challenge
This November our Walk the Talk Programme will be aligning with the Auckland Walk Challenge hosted by Auckland Transport.
Register for Walk the Talk and you will get a free 2 week trial membership at the Recreation Centre. 
From 1 to 30 November, you can record your walks and earn rewards for your activity.
For more information about the walk challenge, click here.
Starting Monday 9th of November we will host group lunchtime walks from Grafton and City Campus which will continue through to December 16th. Our Health and Wellbeing Coordinator, Emma, will lead you through various walks around the city. What a great chance to make the most of the warmer weather, fresh air and networking while being active!
 
Spot prizes will be up for grabs for those who completes the most walks with us over the 6 weeks.
Keep up to date with the programme through the our dedicated Facebook group :
'UoA Rec Walk the Talk'
| Schedule | Location | Meeting point |
| --- | --- | --- |
| Mondays 12.05pm | Grafton Campus | In the FMHS Atrium |
| Wednesdays 12.05pm | City Campus | General Library entrance |
2021 Walk the Talk
We are excited to lock in some dates for the new year.
Join Emma on Wednesdays for a 6 week series starting Jan 13 - Feb 17.
This will be a guided walk starting from the City Campus General Library at 12.05pm.