Find out what past participants have to say about their 3MT experience.
Sam Mackay | 2021 Doctoral Winner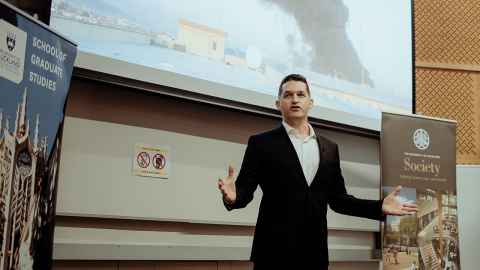 The best part of 3MT was seeing other PhD and masters students in action.
Rachel Lawson | 2021 Masters Winner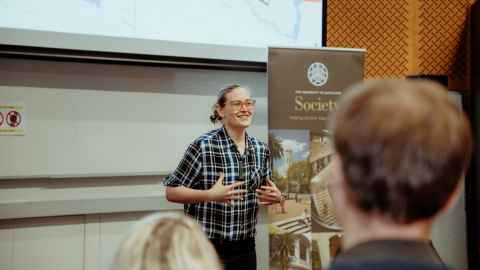 Since competing in 3MT, I feel much more confident presenting my research to general audiences, a skill I have used in my new role at a crown research institute.
Mallory Sea | 2019 Masters Runner-Up
The 3MT competition was a great opportunity for me to break down complex information in a way that could be useful to the general public.
"The experience helped me think about what points were most important to convey to a generalized audience and how to sell my research ideas in a very short timeframe.
"At 3MT I was able to connect with students from other departments and learn about other research happening within the University."
Watch Mallory's 3MT presentation - and those of the other 2019 participants - here: 2019 winners.
Celia Keane | 2018 Doctoral Winner
"Participating in the 3MT competition was a nice challenge as the format was so different and it was an entirely new audience! I was worried that my research didn't fit in with what others were presenting, but when I entered I was pleased to see the huge variation of research and research methodologies going on at the University of Auckland."
I'm not a natural public speaker, but I knew 3MT would be a great opportunity to gain public speaking experience.
"I would encourage everyone to consider being involved for two reasons: firstly, it is a great experience for personal and professional growth to be able to address an audience who are not within your field and in such a short time; secondly, you have a lot of fun and meet some amazing people who are doing fantastic things and may also be able to challenge you or collaborate with you."
Watch Celia's 3MT presentation - and those of the other 2018 participants - here: 2018 winners.
Georgia Watson | 2018 Masters Winner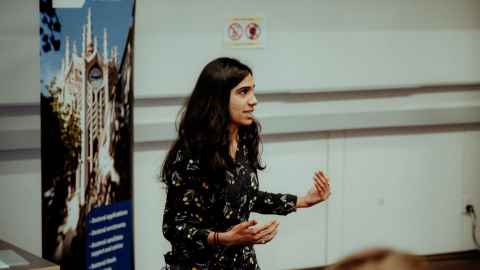 "As someone who has always enjoyed giving speeches and presenting on topics I am passionate about, I thought 3MT would be a great opportunity to showcase my thesis, and see the other research being conducted at the university.
"I found the best way to explain technical components of my thesis was to use analogies, which served to simplify the concepts and keep them engaging. I also made sure to relate back to the human aspect of my thesis and the reasoning behind why I was doing this research. In terms of timing, it was trial and error – seeing what I could simplify or simply not discuss, without taking away from the core values of my research."

I thoroughly enjoyed the competition – it's one of the best ways to see the incredible research that is happening at the university.
"Three Minute Thesis is a great way for students to learn how to summarize your own research, and how to communicate your research effectively to others. No matter what degree you are doing, it always comes down to communication and presentation, whether that be to your peers or at conferences."
Watch Georgia's 3MT presentation - and those of the other 2018 participants - here: 2018 winners.