Find 2023 competition details, dates and resources.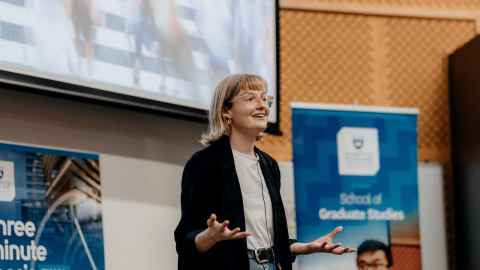 The challenge
Three Minute Thesis (3MT®) is an exciting, fast-paced research communication competition. It was developed by the University of Queensland and is now held annually in over 900 universities across the globe. Participants take up the challenge to share the story of their research with a general audience in under three minutes, supported by nothing more than a single, static slide.

Entries are open to all currently enrolled research masters students and doctoral candidates.

Why take part?
Three Minute Thesis is an unmissable opportunity to refine your research elevator pitch, enhance your presentation skills and drive the impact of your research. Get involved to build your skills, confidence and connections across the research community. 
2023 heat results
Heat
Finalists
ABI Heat
Doctoral Winner: Sahan Jayatissa
Doctoral Runner Up: Robyn May
Engineering Heat
Doctoral Winner: Annecy Bal
Doctoral Runner Up: Henry Till
Liggins Heat
Doctoral Winner: Minah Kim
Education and Social Work Heat
Doctoral Winner: Carine Umutoniwase
Open Heat
Doctoral Winner: Simone Watkins
Doctoral Runner Up: Bhaveeka Madagammana
Masters winner: Robbie Delany
Masters Runner Up: Karl Poland
Science Heat
Doctoral Winner: Cam Hoffbeck
Doctoral Runner Up: Juan Patino Echeverria
Faculty of Medical and Health Sciences Heat
Doctoral Winner: Anantha Narayanan
Doctoral Runner Up: Hossein Jahedi