Top tips for using Zoom and other online meeting platforms!
Are you new to Zoom? Wondering how to be professional on a Zoom call? The Career Development and Employability Services (CDES) team have you covered!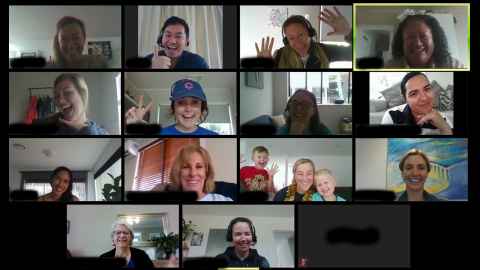 What is Zoom? And why are we using it?
Zoom is an online conferencing platform that combines video, sound and chat.
We're using Zoom during the Covid-19 lockdown to ensure that CDES can still connect you with employers, help you with all your career questions, and continue to support you during this time. Employer presentations, workshops, drop-ins, CV checking, and one-on-one appointments with your favourite Career Development and Employability Consultants are all still available!
Before the Zoom meeting
Ensure that before your first Zoom meeting, you have downloaded the Zoom app, available from Zoom support. If you haven't downloaded the app, you'll be instructed to do so once you click on a Zoom link that the host has shared with you.
If you are joining a meeting, you are not required to have a Zoom account. Simply use the link your Zoom host has sent you.
Zoom also allows you to join a test meeting to familiarise yourself with Zoom and its features. You can join a test meeting. 
If you would like, or are required, to host a Zoom meeting, you can sign up for a Zoom account. The basic account is free!
Etiquette throughout the meeting
Online meeting etiquette is important!
If you're attending an online meeting, whether it is for a lecture, employer presentation or a one-on-one meeting, be on time! It's best to give yourself a few minutes to login, set up, and be prepared for the meeting.
Unless instructed otherwise, make sure that your camera is on. This means being presentable throughout the session, and also ensures that the person or people you are meeting with, know you're there.
Be courteous to the speaker, and keep your microphone on mute. This eliminates background noise and distractions to others. Always remember to unmute if you're speaking, asking a question, or providing helpful insight.
Use the chat function! This chat function allows you to send a message to the whole group, or private messages to individuals. This can be used to ask questions, or just say hi to the group. Always be kind and helpful to others in the chat!
Stay engaged. It is easy to tell when someone is typing, looking elsewhere or browsing the web during a meeting.
We understand that Zoom can be daunting, but just think of it as gaining a new skill set
If you have more questions about Zoom, you can visit Zoom support, which has frequently asked questions, popular topics, and video tutorials. Or get in touch with the team here at CDES – careers@auckland.ac.nz.
Happy Zooming!