Success stories from our Tuākana students.
Cherie Mangu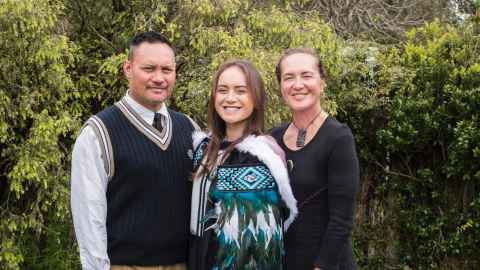 Ngāti Porou, Ngāti Whātua ki Kaipara, Ngāpuhi (Ngāti Hine), Te Atihaunui-a-Pāpārangi
Conjoint Bachelor of Arts/Bachelor of Science (BA/BSc), majoring in Māori Studies/Physiology and Exercise Sciences, 2016
Being Māori at University is empowering because you are fulfilling the dreams of your ancestors and challenging society's norms for what it means to be Māori.
My whakapapa is my greatest motivation, along with my whānau, my community and knowing who I am as a Māori woman.
The University of Auckland has played a significant role in shaping me into a strong and focused woman with clear direction and purpose.
I've been very blessed as a recipient of the Vice-Chancellor's Award for Māori and Pacific Scholars, now known as the Māori Academic Excellence Scholarship, as well as the Ngārimu VC & 28th Māori Battalion Scholarship and Hauora Māori Scholarship. I also owe a lot of my success to the amazing Māori support groups such as Tuākana, Māori and Pacific Admission Scheme (MAPAS), and Ngā Tauira Māori.
Throughout my journey at University I have been involved in many inspiring programmes as a mentor and an ambassador including the Chancellor's Award for Top Scholars, BEAMS (Business, Engineering, Architecture, Medicine, Science), Tuākana and Whāia Te Pae Tawhiti. The more you are willing to give to the youth in these programmes, the more motivated and inspired you become along your own journey of academic success.

KJ (Kamaljeet) Iona Hundal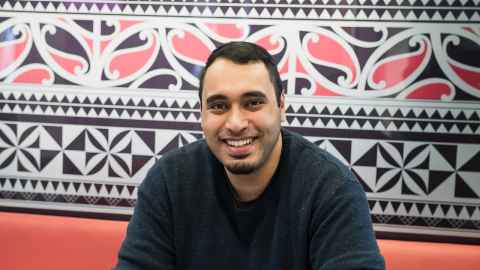 Hikutavake, Niue, and India
4th year Bachelor of Commerce (BCom), majoring in Management and International Business
Studying at the University of Auckland has helped shape who I am, thanks to the many opportunities and experiences I have had here. The University's Tuākana classes have played a vital role in guiding, motivating and inspiring me to achieve my goal of earning a University of Auckland degree. The Tuākana academic, pastoral and cultural network
of Māori and Pacific people helps ensure we can all achieve when we set our minds to it. I was lucky enough to be a part of the Commerce Association for Pacific and Māori (CAPM) executive team in 2013 and 2015. Through this association, I have attended many corporate networking events that have helped develop my professional capacity. I was also lucky enough to be a part of the Nurturing, Information and University (NIU) programme, going to schools to meet with Pacific and Māori kids about the possibility of university study. The experience has been humbling and has continually inspired me to finish strong.
During my time at University I have devised a formula for achieving excellence: go to all your classes, do the work to the best standard you can, always ask questions if you need help, and get involved in all the opportunities offered to you. The only thing that stops you from achieving the amazing is you, so be the reason for your own success!

Rīhari and Hēmi Enright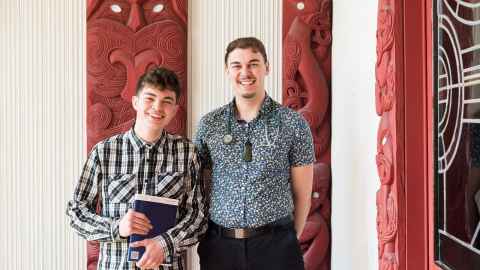 Rīhari Enright
Ngāpuhi, Ngāti Ruanui
1st year, Bachelor of Health Sciences (BHSc)
Completed Certificate of Health Sciences – Hikitia te Ora, 2016
Mōku ake, kia tū Māori ai i tēnei āo, ka tū au me tōku whānau.
Ko rātou ko ngā puna aroha me ngā puna tautoko. Nā reira, nā te whanaungatanga, i whakatau ai ahau kia haere ki te whare wānanga o Tāmaki-Makaurau, akoako ai. Nā tōku tuākana i whakakaha ake tōku hononga ki te whare wānanga nei. E whai ana e ia i te tohu o te tākuta o te rongoā. Nāna i whangai i au ngā akoranga kia whai hoki au i tēnei tohu mātauranga.
As a tauira Māori, whānau is important. Whānau provides aroha and tautoko, and my whānau was critical in my decision to study at the University of Auckland. Through my brother I feel a strong sense of whanaungatanga with the University. He studies medicine and this tuākana-teina relationship has benefitted me both personally and academically. I'm at the start of a long journey in Health Sciences.
This would have been a daunting experience without the support of the University's Tuākana programme, the Faculty of Medical and Health Sciences' Māori and Pacific Admission Scheme (MAPAS) and The Whakapiki Ake Project. MAPAS is an extended version of whānau. They have supported me throughout the year, and I feel connected to my class and tuākana. We are all supporting each other. The University provides a strong sense of belonging, whanaungatanga, due to the supportive environment it provides for tauira Māori. It is a whānau-centred environment where Māori can succeed as Māori. I am excited by the opportunities to learn and grow under the University's Māori academic leaders and kaumātua.

Hēmi Enright
Ngāpuhi, Ngāti Ruanui
(5th year, MBChB)

The University of Auckland was the right choice for me and my whānau. My journey began in 2012 following high school. Since then I have been exposed to opportunities I would have missed out on if I hadn't entered tertiary education.
I have chosen to study Medicine because hauora is important to us as Māori. As an aspiring doctor I can help others, especially our Māori and Pacific whānau, through times of hardship caused by ill health. As a clinical student, I have seen the need our people have for more Māori health professionals.
While here at the University I am supported by the Faculty of Medical and Health Sciences' Māori and Pacific Admission Scheme (MAPAS). Within this learning environment I have made awesome friends and am supported in my studies to achieve my best.
Going to University is a big decision. I hope you take the plunge! Believe in what you can achieve with the support of others. Kia kaha, kia maia, kia manawanui.
Amy Joy Pulou Maslen-Miller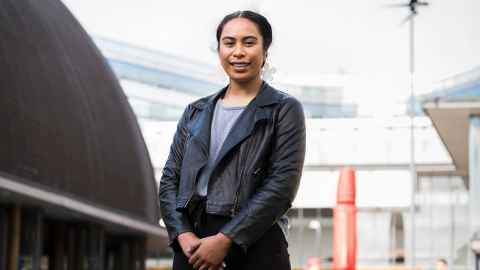 Manono and Sapapalii, Samoa
Bachelor of Science (BSc) majoring in Biological Science, 2014
Postgraduate Diploma in Science (PGDipSci), Biological Science, 2014
Master of Science (MSc), Biological Science, Characterisation and pathogenicity of Phytophthora colocasiae on taro, 2016

Coming from a small school and being a shy person, University was initially daunting. But that changed when I became involved in Tuākana tutorials. Tuākana provided a supportive learning environment where I gained the confidence to ask questions and contribute to group discussions. The supportive environment gave me the confidence to know I could finish my degree (even though science was not my strongest subject in high school!).
I was so grateful for all the help from Tuākana that I wanted to help other Māori and Pacific students, so in my second year I became a Tuākana tutor. It was a privilege to guide and advise students to achieve their best. In my fourth year I became a Tuākana coordinator of Biological Science. This provided many opportunities, including embarking on summer studentships, attending networking events and developing my masters project on Pacific agriculture.
As a Pacific student I know that my ancestors made big sacrifices so I could get a tertiary education. I wanted to honour them by working hard and earning a degree. My University journey has made me more culturally confident and that has informed my decision to study Biological Science. I am aware of the connection between science and its importance for our Pacific communities. Having completed my masters, I hope one day to earn a PhD to further advance the scientific knowledge of and among our Pacific communities.

Dion Westrupp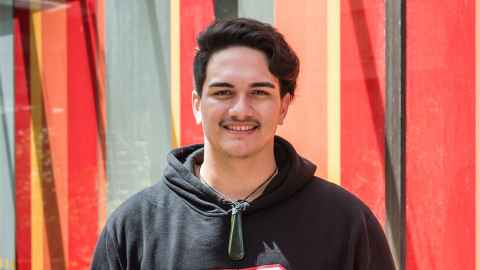 Rongowhakaata
Completed UniBound, 2016
2nd year Bachelor of Arts (BA), Māori Studies
I came to the University of Auckland from Gisborne, a town that has about the same population as the number of students enrolled here.
What attracted me to the University wasn't the ranking, the faculties or the scholarships. It was how I saw Māori students connect through Whaia Te Pae Tawhiti. The programme shows Year 13 Māori students from outside of Auckland all that the University has to offer. It was one of the best weeks of my life and gave me lifelong friendships. The University offers so much support to Māori students, including from staff in the Equity Office and Schools
Partnership Office; members of Ngā Tauira Māori (Māori Student Association); UniBound, an academic preparation programme for Māori and Pacific school leavers; and the Tuākana programme, which provides academic and pastoral support. UniBound was particularly valuable in preparing me for University life and learning.
Before I came to Auckland my Aunty Glennis sat me down and told me that from this point on, I am carrying my father, as well as my koro - his father - and all of my tipuna, on my shoulders, making them proud. These words have stuck with me and I hold them close to my heart. They remind me that I am not just here to get a piece of paper with my name on it, but to make my whānau proud.
Adelaide Julia Hamill Turnbull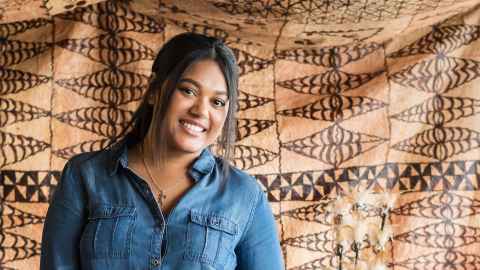 Ovea, Bau, Tailevu, Fiji
4th year Bachelor of Arts (BA), majoring in Pacific Studies and Political Studies
It is said that education is the key to success. During my time at the University of Auckland it has become clear to me that education will take you far in life. I am very grateful to have been a part of the Certificate in Academic Preparation (now called UniBound) offered by the University. Held during Summer School, this course helped open my eyes to the wondrous opportunities a University of Auckland education could offer. I was a young high school leaver who believed studying at such a prestigious institution was far out of reach. Yet my UniBound mentors taught me that through hard work and commitment you can achieve anything you put your mind to.
As cliché as it sounds, my academic journey is a testament to this. The on-going support from the Faculty of Arts Tuākana tutors have also helped me immensely with my studies. As a 3rd year University student I was a junior mentor and looked to support and inspire other Pacific youth to pursue higher education.
I look forward to continuing this work in my 4th year.
Te Amorangi Rikirangi-Thomas
Ngāti Pikiao Ngāti Whakaue and Ngāti Ranginui
Final year, Bachelor of Arts (BA), Māori Studies major/Spanish minor
Māori Student Officer, Ngā Tauira Māori, 2016

Mā wai taku kauae e kawe ki uta? He kupu i kapo ake nā Kawatapuarangi e wānangatia ana e mātou ngā uri whakaheke. Kei ia whakareanga, kei ia ira tōnā ake māramatanga ki ēnei kupu. Heoi, mōku ake he kupu arataki ēnei i taku hīkoi i te whare wānanga nei, kia whakatinana, kia whakautu hoki i tā Kawatapuarangi i whakataukitia ai. Ko tērā e manako nuitia ana e mātou ngā uri, kia toro atu ki ngā tini peka o te mātauranga ka kohikohi ai ngā punua āpititanga a te Pākehā, me te whakakotahi ki ngā akoranga a kui mā, a koro mā e ū noa atu ai te kauae ki uta!