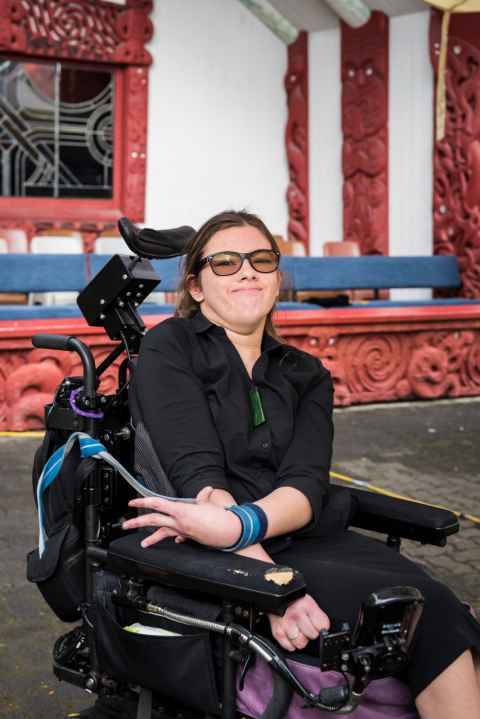 "My name is Alicia and I am 19 years old. I was born and raised in Auckland, but both my parents are from Northland, so I consider myself to be from there as well. I'm half Māori and involved in Ngā Tauira Māori, which is the Māori student association at the University. I'm also a member of the University's Kapa Haka group.
"I'm a co-founder of a project called Wheely Wacky Adventures. My friend and I make videos about our adventures in hope of changing society's perceptions around people with disabilities, especially what we're capable of doing. We're on Facebook, Instagram and YouTube.
"I'm completing a Bachelor of Arts (BA) in Criminology and Māori Studies. My disability does not majorly impact my studies because I can get to all my classes and do assignments and exams. I guess the only challenge is that sometimes it takes longer for me to write assignments and exams. I type one letter at a time, so at the end of the day I get quite tired. In saying this, I've always handed assignments in on time, so I can still keep up with the workload of three papers.
Student Disability Services (SDS) have been really helpful throughout my University of Auckland journey, including when I was still at school. I was working with SDS during Year 13. This made my transition to university life easier – and not as scary.
SDS has provided me with onsite parking each semester. This makes the days a lot better as I don't have to try and find a park.
"SDS organise extra time and separate accommodation for my exams and tests. This has really relieved my anxiety during stressful times! They have also given me a disabled bathroom that's big enough for my equipment. SDS has had a very positive in my time at the University – and I always know where to go when I need help."