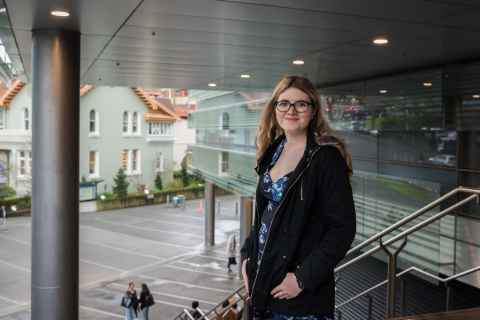 "I'm in my final year of a Bachelor of Science/Bachelor of Arts conjoint degree, majoring in Biological Sciences, Environmental Science, English and Spanish. I'm hoping to continue with an honours year in Biological Sciences next year. In my free time, I play the drums, I love theatre and dancing, and I'm a massive superhero geek.

"I chose the University of Auckland partly because I come from a family of Auckland alumni, and partly because Auckland is the highest-ranked university in New Zealand. So I hope that studying here will prepare me well for a career in research in New Zealand or overseas.
 
I have dyspraxia, which affects my physical coordination and makes me a pretty slow writer. That, coupled with a processing delay, means that I've always struggled to finish tests and exams on time. It doesn't matter how hard I've studied or how enthusiastic I am about the courses I've taken. It's frustrating that something as simple as time management during tests could stop me getting the grades I need for a career that I'm passionate about.
"Over the years, I've learned a few strategies that have definitely helped. For example, I plan out in advance how much time I should spend on each section of an exam. And I get the easiest questions out of the way before I worry about the answers I'm not as sure about. Another thing that's helped is buying soft grips for pens and pencils so that I can hold them more comfortably while I'm writing fast.

"Student Disability Services (SDS) co-operate with my lecturers to arrange an extra time allowance for tests and exams. This has been extremely helpful, as I've been able to focus on the quality of my answers without constantly stressing about how much time I have left. I hugely appreciate the effort that the SDS team put in on behalf of me and all the other students who need to sit exams under special conditions. I'm certain that it takes a lot of hard work to arrange venues and supervisors for so many of us!"