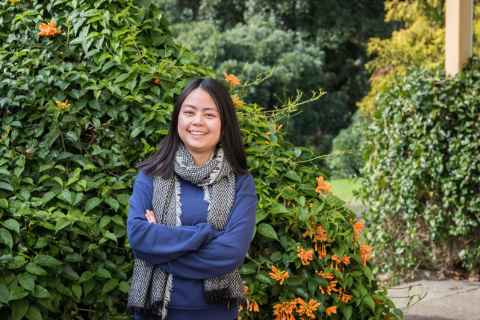 "My name is Joyce. I was born in Auckland, but my parents came from Hong Kong. I'm currently in my last year of a Bachelor of Science in Biology and Psychology. I hope to become a secondary teacher one day by completing a Graduate Diploma in Teaching.

"I've always wanted to go to the University of Auckland. My parents immigrated to New Zealand not knowing anyone. They got accepted into the University of Auckland, and my dad worked really hard to become the first person in his family to graduate from a university.

"Prior to my diagnosis of ADD (Attention Deficit Disorder), I struggled tremendously to understand what I was reading. I also had a lot of trouble not to be distracted by my own thoughts in any situation I was in. I left tasks unfinished, took notes inconsistently, and couldn't focus under exam conditions with so many people in a room.

"Before knowing about Student Disability Services (SDS) I tried my best, using different strategies to help myself overcome those barriers. However, the more I tried, the more frustrated I got after seeing barely any progress. I tried taking notes in different ways by using a whiteboard or mind maps, however, after a short time I was always distracted by something. I finally went to SDS with these struggles. They suggested getting things checked professionally in order to pinpoint the root of the issue and develop a targeted strategic plan.

"After I was diagnosed with ADD, SDS helped me to devise study plans and strategies, with the help of technology such as apps to maintain focus. They also helped me with exams by organising a separate room with fewer people so that I would not be distracted by my environment. They cared about my general mental well-being too. They asked about my appointments with professionals and whether or not medication was helping. They were eager to help me in any way possible.
 
SDS has made a huge positive difference to my time in University. Through their support and guidance, I was able to feel confident about reaching my goals. SDS has provided me with options I didn't know existed before.
"I've noticed a huge difference in both my results and my attitude towards learning. Prior to reaching out to SDS, I lacked motivation to continue because there was no progress, despite the many hours spent on trying. After SDS helped me find effective and efficient ways to go about my study, I realised that despite my ADD, I too, can achieve just as high as other students and that it is possible to pursue the career I had hoped for."