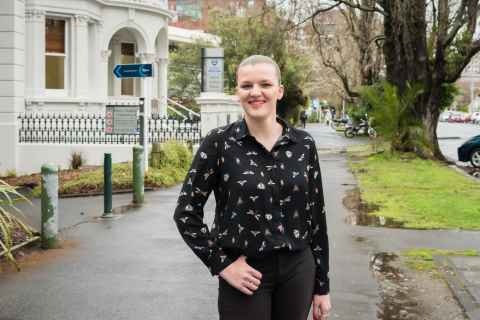 "My name is Lucy and I am 22 years old. I am currently in my fourth year of a conjoint Bachelor of Commerce/Bachelor of Science degree majoring in Accounting, Economics and Statistics. From the moment I first took Accounting in year 11, I fell in love with the subject. I picked up Economics in year 12 and loved it even more.
"I've suffered from chronic pelvic pain due to endometriosis for the past four years. I really started to struggle with University as I was going into my third year. A friend told me about Student Disability Services (SDS), for which I am very grateful.
 
Right from my first meeting with SDS I've loved working with them.
They encouraged me to apply for aegrotat consideration* for a couple of exams that I'd had a really rough time with. I didn't know I would even be eligible but I ended up being granted it for both. This was a huge relief for me as I'd had surgery that semester that was meant to alleviate my pain but ended up making it worse.

"My grades are very important to me, and they suffered during this time, so getting aegrotat really helped me mentally. SDS also helped me apply for Limited Full-Time status. This meant I could study at university part time but still get my Student Loan living allowance. This was amazing. Full-time study was becoming far too much for me due to the cyclical pain but I needed the loan to pay rent.

"SDS also helped me get disability parking at Uni. This really changed my life. I previously took the bus. Whenever I did, all the standing and walking meant I was shattered by the time I got to university. I could barely focus. Having a park on campus has made it so much easier."
 
*You can apply for an aegrotat or compassionate consideration if your personal circumstances are significantly and temporarily affecting your exam performance or preparation. Read more