Natanael, originally from Belize in Central America, is enrolled in our Master of Engineering Management programme and received a New Zealand Development Scholarship.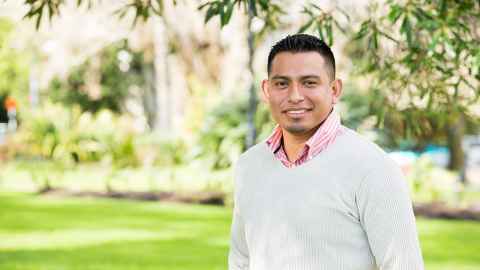 "Receiving a New Zealand Development Scholarship to pursue my Master of Engineering Management at the University of Auckland has been an exciting endeavour, especially since there is a rigorous screening process through which all candidates must go.
"The structure of the programme was a key motivator to study at the University of Auckland, being a merge between the Engineering and Business faculties with the possibility of conducting guided research. The teaching staff possess broad knowledge and collectively have years of work experience in a variety of industries, making them a priceless resource available to students."
The experience of the lecturers in education, research and industry was an indicator that the classes would be exciting and challenging.  
"Attending New Zealand's most prestigious university is a rewarding experience which has taken me through a steep learning curve. Besides academic and professional growth, the experience has helped me become more analytically inquisitive, resilient, and perseverant, and has helped me grow more emotional intelligence.
"What I have enjoyed the most about Auckland is the diversity of people you meet on a regular basis. People from different parts of the world bring with them their culture, food and language. Sharing this is very fulfilling and fosters personal growth outside of the classroom. My advice to prospective University of Auckland students? Stop thinking, do it! Your future self will thank you."
Meleane Akauola, from the Faculty of Engineering Student Development and Engagement Team says, "Natanael's energy and optimism have made him instrumental in the success of the Engineering Postgraduate Buddy Programme. Natanael has shown himself to be an excellent leader and communicator, qualities which I'm sure will make him successful in his career."