Baby brain study shows how 'white matter' prevents celebral palsy
How does a simple treatment protect against cerebral palsy at birth? Professor Caroline Crowther's study breaks new ground.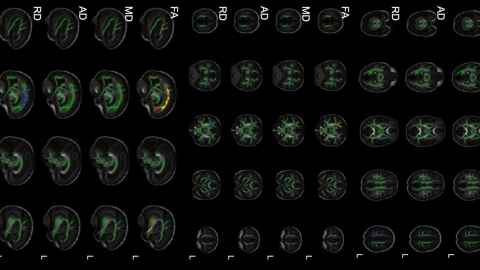 Scanning the brains of premature babies in New Zealand and Australia has yielded insights into a simple method for preventing cerebral palsy.
The ground-breaking MagNUM Study led by Professor Caroline Crowther, of the University of Auckland's Liggins Institute, shows how a dose of magnesium sulphate, given to a mother immediately before a very premature birth, protects the baby's brain.
The research, published this week in EBioMedicine Journal, may help scientists to solve the puzzle of exactly why the treatment works. Magnesium sulphate is preventing cerebral palsy – and even death – in babies all over the world, after the effectiveness of the simple treatment was confirmed in 2009.
In the MagNUM Study, women in Auckland, Christchurch and Adelaide at risk of imminent birth between 30 to 34 weeks' gestation were given magnesium sulphate or a placebo. When the babies – 109 in total – reached full-term age (38 to 42 weeks) they were scanned in a magnetic resonance imaging machine.
The images showed that magnesium sulphate promoted the development of white matter in brain pathways important for motor and cognitive function. White matter – as opposed to grey matter – is paler tissue that provides pathways for messages between different areas of the brain.
"There's no cure for cerebral palsy, so preventative treatments are crucial – and this is one of the very few preventative treatments that we know of," said Professor Crowther who has been researching magnesium sulphate's effects since 1995.
The latest study, funded by the Health Research Council of New Zealand, involved collaboration with researchers in institutions and radiology centres, including the University of Edinburgh, and five hospitals across the three Australasian cities.
The work builds on previous research by Professor Crowther and her team, including an individual participant data meta-analysis of randomised trials showing that antenatal magnesium sulphate reduces the risk of death and cerebral palsy. That work, published in 2017, included five trials with a total of 6,131 babies.
Follow-up research on the babies in the MagNUM MRI study will include checking on their later development at two years of age. MagNUM is believed to be the first study of its type, using MRI imaging to investigate magnesium sulphate's fetal neuroprotective effects.