Huavai (Clare) Huni-Mafi graduated with her mum and five children by her side, a long list of achievements to her name, and the knowledge that she's made a difference to communities in New Zealand and the Pacific.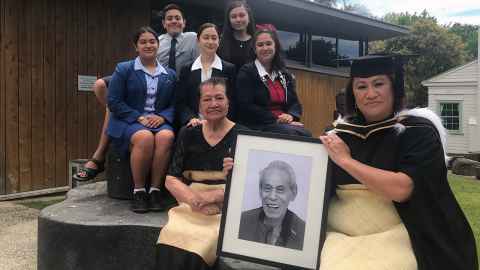 Born in Tonga, Clare moved to New Zealand with her parents and three older siblings after her father managed to secure permanent residency in the midst of the 1970s dawn raids. She grew up in Mangere, before returning to Tonga and starting a family.
When Clare moved back to Auckland in 2012 with her five children, she was horrified to find that many of the social issues she saw when she was a child were not only still prevalent, but even worse. After securing a job at the Ministry of Social Development she found herself asking questions about why things were the way they were, and what she could do to help.
"That's what led me to social work," Clare says. "I was shocked by the problems that people in my community, primarily Māori and Pasifika, were facing; the poverty, housing situations, literacy, access to resources, substance abuse, child protection… I knew that if I wanted to do more to help, I needed to enhance my knowledge and skills, so I enrolled in the Bachelor of Social Work."
Clare dived headfirst into the world of tertiary education for the first time ever, with a Le Va Scholarship to help fund her studies. She says it was a challenge to navigate the university environment at first, but with the help of Pasifika Success, supportive lecturers and peers, and a very understanding family, it didn't take long for her to feel at home.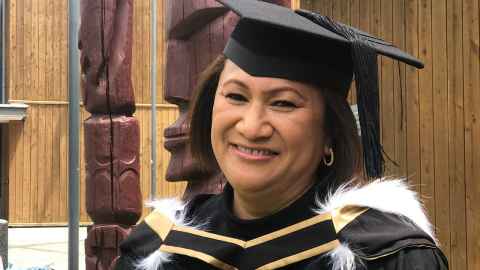 During her third year of study, Clare co-ordinated a class trip to Tonga, to give her classmates and faculty staff members the chance to experience Pacific Island culture and exchange community resources and strategies for the vulnerable.
With support from the Tongan government, the New Zealand High Commission and the University, the group visited hospitals, women prisoners, schools and NGOs, as well as home visits, hosted by the village of Kolonga in the Eastern side of Tongatapu.
"We had a great mix of students from Hong Kong, Singapore and the Pacific Islands, including a student from Tonga who hadn't had the opportunity to go back home in years. We managed to fit a lot of things into the five-day trip, and we really learnt so much."
Balancing study with work and raising five young kids is no easy feat – but Clare's determination to make a positive impact on her community kept her motivated.
"I felt quite fortunate to be a mature student – one advantage is having more life experiences. I've made mistakes in my life, but I don't think there is anything wrong with that if you own it and make positive changes moving forward. I learnt so much from the younger students, like how to use an AT HOP card on public transport and navigating social media!
At times, you have to make sacrifices, but I'm lucky to have an amazing support system and I know it was all worth it. Today's ceremony is a good chance to see the fruits of the harvest.
"It's also a time to remember and honour my father, who passed away last month. One of the reasons he came to New Zealand was so that he could provide the best opportunities for his children and grandchildren. A few years ago, my niece was able to share her graduation with my father, I think today's graduation really validates the efforts of those who came before us."
Clare will return to study next year to begin her Master of Social Work, with a view to completing research on access to resources for Pasifika elderly.
"The challenges my father faced in his older years were really eye-opening for our family and I'd like to contribute to some solutions. I would also love for my masters to help provide a blueprint for other ethnic groups, who may be going through similar struggles as second-language speakers."
Clare's already giving back to the community she grew up in through her work at Counties Manukau Acute Allied Health, where she supports patients and families in the Neonatal Intensive Care Unit (NICU), at Middlemore Hospital.
"I feel blessed that I have an opportunity to work in the health sector in my community in South Auckland. I want to support people who need it, keep learning from practitioners, and share my knowledge from a cultural perspective. My work can be very intense, but I feel enriched by the patients who share their stories with me, and I am so thankful."