Call for universities to step up climate change partnerships
As the world confronts the challenging environmental and social impacts of climate change, the Vice-Chancellor of Waipapa Taumata Rau, the University of Auckland is calling on universities to work more closely with partners on mitigations.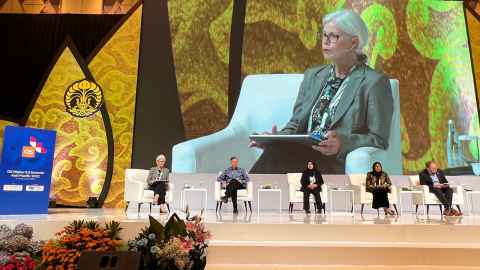 Professor Dawn Freshwater says universities have a strong focus on sustainability and inequality, but she believes more must be achieved, and achieved faster. Through collaboration with business, industry, civil society and government, universities can address some of the greatest challenges of our time.
"Responding to climate change involves us all. That must include climate justice. Universities have to be at the forefront of tackling climate issues," she said.
Speaking at the QS Higher Education Summit in Indonesia, Professor Freshwater noted a 2021 report which ranked the top 100 cities most at risk of environmental and climate-related risks.
"Ninety-nine are located in Asia and Jakarta is ranked number one. Our cities are at risk of increasing pollution and extreme weather, putting an estimated 1.4 billion city dwellers at high risk."
It's only by working together that we can solve the world's biggest problems. And we need to act now.
Professor Freshwater's comments follow the recent announcement that the University ranked tenth globally in the inaugural QS Sustainability Rankings. The ranking shows how universities are taking action to tackle the world's greatest environmental, social and governance challenges. It follows a sixth place ranking on the Times Higher Education Impact Rankings which assess universities against the UN Sustainable Development Goals.
Accepting the APAC and the Australasia awards for being one the Most Environmentally Sustainable Institutions, she urged universities and their leaders attending the QS Summit to partner with community leaders as they chart a sustainability course.
"It's only by working together that we can solve the world's biggest problems. And we need to act now."
Professor Freshwater led a one-hour conference session on Charting a sustainable future – university commitments and responsibilities at the QS Higher Education Asia Pacific Summit in Jakarta on Tuesday 8 November 2022.