Body of bioengineering research continues to grow
Five Masters in Engineering and 18 PhD degrees have been conferred on Auckland Bioengineering Institute researchers this week.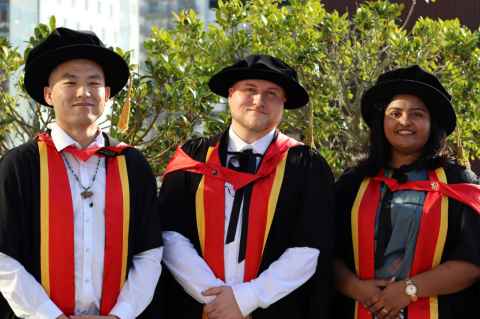 Spring graduation at Waipapa Taumata Rau University of Auckland this year saw five Masters in Engineering and 18 PhD degrees conferred on Auckland Bioengineering Institute (ABI) researchers. The Institute has racked up a total of 33 postgraduate qualifications for 2023.
Professor Merryn Tawhai, ABI Director said that Graduation was always a proud event for ABI.
"We know the commitment that it takes to complete a postgraduate degree, and now we get to join these talented young researchers in celebrating the culmination of their years of effort," she said
"This large and diverse cohort of graduands are now moving into careers in research and industry, reinforcing ABI's importance for talent development for New Zealand's high-tech sector."
Researchers at the Institute explore every organ within the human body under the research themes of computational and experimental physiology, engineering for clinical technologies, and medical devices and instrumentation.
Doctors Joyce John, Jarrah Dowrick, Yihan Wu and Duncan Bakke, four of 13 successful doctorates, have focussed on the lungs and respiratory system, the heart, brain and the musculo-skeletal system respectively.
Joyce John is a Post Doctoral Fellow at the Lung and Respiratory group. Raised in South India, Joyce says her early exposure to the pioneering research community where her father worked at the Atomic Research Centre fuelled her aspiration to pursue a career in STEM.
"Equipped with a degree in Computer Science and Engineering, an insatiable curiosity about the human body brought me to ABI – a profoundly enriching environment filled with brilliant minds who have inspired me to be an ethical researcher and leader," she says.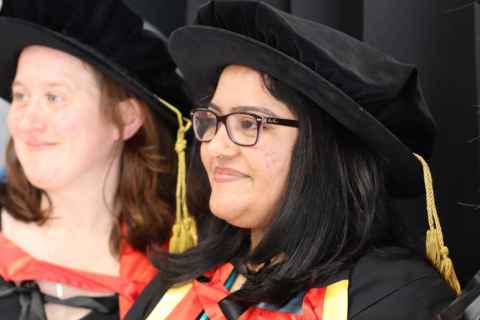 It was Duncan Bakke's undergraduate lecturers, Professors Thor Besier and Andrew Taberner, who inspired him to unite his strengths of 'maths and people' at ABI. His doctoral research used machine learning of gait and analysis of walking behaviours post-stroke to better predict people's response to rehabilitation.
He is now working as a research bioengineer at Formus Labs, the creator of an AI-powered 3D planner for joint replacement surgeries and one of 20 companies spun out of ABI research.
First in his family to graduate with a doctorate, long time support of Waikato's Chiefs, Yihan Wu moved North from the rugby heartland to reproduce traumatic brain injuries biologically in the laboratory. His doctoral research has explored what happens in the brain when this injury occurs, looking closely at the scar formation to help find clues toward better and faster recovery.
Jarrah Dowrick completed his Bachelor of Engineering (Hons) at the University of Auckland and says the gravitational pull of the ABI was "almost inescapable".
His doctoral research explores the influence of dynamic loading patterns on the calcium handling of cardiac muscle. He is now a Research Fellow with the Gastrointestinal Research Group where he uses statistical and biophysical modelling techniques to identify biomarkers and therapeutic targets for lower gastrointestinal disorders of gut-brain interaction, such as irritable bowel syndrome.