2019 Sports Awards Winners
The 2019 Interfaculty and Tertiary Sports Awards ceremony was held on Friday 18 October. Find out who walked away with an award on the night.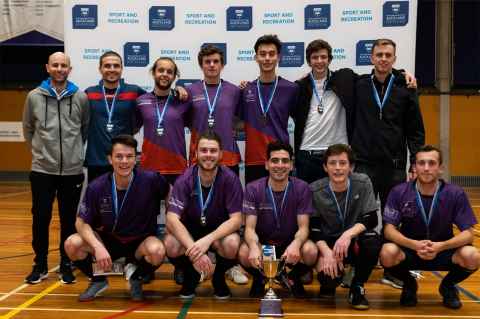 The Sports Awards were a chance to recognise and celebrate students who have excelled in Interfaculty and Tertiary sports throughout the year. Awards were given to winners and runners-up in each category, as well as the presentation of the Elizabeth Campbell Cup, Sir Colin Maiden Interfaculty Shield and UTSNZ Shield. 

Individual Sporting Excellence Awards
| Sportsperson of the Year | Name | Place |
| --- | --- | --- |
| Netball | Ivana Rowland | Winner |
| | Armani Lam | Runner-up |
| Basketball | Olivia Berry | Winner |
| | Mikaere Watene | Runner-up |
| Ultimate | Nicholas Whitlock | Winner |
| | Anna Dolan | Runner-up |
| Volleyball | Dallas Tagaloasa | Winner |
| | Talia Davies | Runner-up |
| Hockey | Tyler Lench | Winner |
| | Tyla Goodsell-Matthews | Runner-up |
| Table Tennis | Dean Shu | Winner |
| | N/A | Runner-up |
| Futsal | Thomas Picken | Winner |
| | Michael Soffe | Runner-up |
| Badminton | Deborah Yin | Winner |
| | N/A | Runner-up |
| Waka Ama | Billie-Lee Haresnape | Winner |
| | N/A | Runner-up |
Interfaculty Sport: Major Awards
| Interfaculty Award | Name | Place |
| --- | --- | --- |
| Team of the Year | FMHS Waka Ama Team | Winner |
| | Commerce Netball Team | Runner-up |
| Manager of the Year | Loukas Banks | Winner |
| | Ben Stewart | Runner-up |
| Supporter of the Year | Hayden Struthers | Winner |
| | David-Joel Henry | Runner-up |
| Sportsman of the Year | Luke Fitzpatrick | Winner |
| | Mafoa Mafoa | Runner-up |
| Sportswoman of the Year | Kararaina Te Puni | Winner |
| | Dahyoung Kim | Runner-up |
| Elizabeth Campbell Cup | Adrianne Mendes-Underwood | Winner |
| | Umaiyan Haran | Runner-up |
| Sir Colin Maiden Shield | Engineering Eagles | Winner |
Tertiary Sport: Major Awards
| Tertiary Award | Name | Place |
| --- | --- | --- |
| Rookie of the Year | Armani Lam | Winner |
| | Josh Paterson | Runner-up |
| Coach of the Year | Karl Noyer | Winner |
| | Marvin Eakins | Runner-up |
| Team of the Year | Men's Futsal | Winner |
| | Ultimate | Runner-up |
| Sportsman of the Year | Thomas Picken | Winner |
| | Nicholas Whitlock | Runner-up |
| Sportswoman of the Year | Ivana Rowland | Winner |
| | Olivia Berry | Runner-up |
| UTSNZ Shield | The University of Auckland | Winner |