How can we sustainably transform individuals, organisations, supply-chains, and society through systems-thinking and exponential technologies?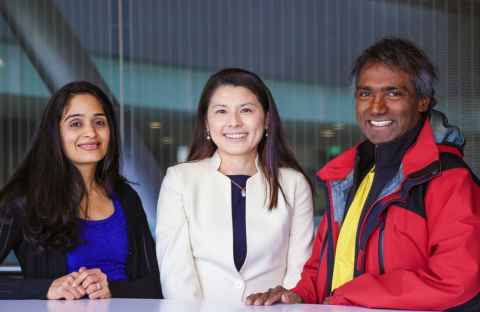 Professor David Sundaram (right), with Doctoral Candidates Khushbu Tilvawala, and Claris Chung, Information Systems and Operations Management, Faculty of Business and Economics.

Sustainable transformation aspires towards balancing, integrating, and enhancing social, economic, environmental and cultural dimensions. Existing models, processes, roadmaps, frameworks and systems do not comprehensively support sustainable transformation nor do they allow decision-makers to explore interrelationships and influences between the sustainability dimensions in a holistic manner. This leads to silo-based decision-making where visions and strategies are not mapped to execution. This is true at the micro level for individuals and families and macro level for organisations, supply-chains and societies as a whole. The purpose of the research led by David Sundaram is to propose visions, values, strategies, concepts, models, processes, paradigms, frameworks, architectures, systems, roadmaps and games that will enable individuals (Claris Chung), organisations (Dr. Daud Ahmed and Dr. Gabrielle Peko), supply-chains (Dr. Hendrik Reefke) and ultimately society (Khushbu Tilvawala) to be transformed. Their efforts focus on measuring, modelling, benchmarking, and interweaving sustainability dimensions with a view to educate and transform.