Alumni story: Doing what's needed
Robyn Scott talks with Nikki Mandow about finding ways of making the world a better place.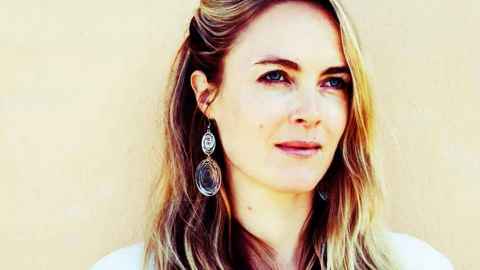 Robyn's story
"If you want to build a disruptive business," says social entrepreneur Robyn Scott, "it's useful to have had a disrupted childhood."
Robyn has plenty of experience with both. She is the oldest child of unconventional parents, who didn't believe in old-school formal education and decamped from New Zealand to rural Botswana when Robyn was nine.
In fact, Robyn didn't go to school until she was 15, but still managed to take two degrees – a BSc in Bioinformatics at the University of Auckland and then an MPhil in Bioscience Enterprise (with distinction) from Cambridge University. From there she's been on a mission to make a difference in the world.
In the last decade, Robyn has cofounded a London-based business and two social enterprises in Southern Africa: Mothers for All, which provides education and training for women caring for Aids orphans in Botswana and Brothers for All, a programme teaching computer coding, technology and life skills to South African prisoners, ex-prisoners and at-risk youth, offering transformative job opportunities – and an alternative to crime. Robyn is also a World Economic Forum Young Global Leader, and was named in 2012 as one of Wired Magazine's "50 people about to change the world".
So can someone's achievements be attributed to a childhood on the edge of the Kalahari desert, with an unorthodox flying doctor father trying to cope with an out-of control AIDS epidemic and a mother who saw playing, reading and exploring as more important than going to school? It was certainly a big influence, Robyn says.
"The older I get, the more I'm deeply appreciative of my unusual upbringing. In a world that's changing, uncertain and evolving, I'm grateful I had a childhood that was like that too. Whenever things got stable, we'd move to a new place, and that meant taking on new challenges. Sometimes that was hard; every kid wants to be normal. But it's made me pretty resilient."
To get a better idea of Robyn's life in Botswana (a landlocked former British protectorate with an enviable reputation for stable democratic government, but (for a time) the world's highest rate of HIV infection), it's worth reading her first book Twenty Chickens for a Saddle – a gentle memoir full of anecdotes about an unusual life."
Botswana was a remarkable place to grow up," she says "because it's in many ways a huge success story in terms of the region, but it's also a place of incredible societal challenges. On the one hand I grew up with a sense of optimism about the world and the power of business, development and ideas to lift people out of poverty and change lives. But on the other hand, I had a huge awareness of the scale of jeopardy so many people are in."
Robyn is now finishing a second book, documenting the true story of a group of murderers and armed robbers in South Africa's most violent maximum security prison who "adopted" local AIDS orphans, growing food for them, raising money for clothes and schooling, even hosting regular visits and parties for them in the prison. Think of it as a true-life version of the Shawshank Redemption story, set in a South African prison, she says.
Robyn came across the prisoners through her mother, who was studying HIV in prison populations, and promised to tell their story as a way to support what they are doing. But truth to tell, she doesn't particularly like writing books; it's a solitary profession and she'd rather be working with other people, founding organisations as a way to make a difference. Her latest venture, Apolitical, is a for-profit company aiming to foster best practice in local, city, and national governments by creating a network of innovative public servants, and sharing solutions to society's hardest challenges.
Governments get a bad rap, Robyn says, with many people associating politics with corrupt bureaucrats. Actually, governments all round the world contain committed, mission-driven individuals trying to change things for the better. In fact, government is, by definition, trying to make the world a better place.
And successful projects that emerge from the leadership of a country can achieve significantly greater scale in terms of improving people's lives than the best organised not-for-profit.
The trouble is, there isn't really a way for innovative ideas that work in one country to be identified, collected and disseminated elsewhere: "You wouldn't book a holiday without looking at TripAdvisor, but in government there's almost nothing that's comparable. It's crazy that you've got people deciding policies that will affect millions of lives and there's no easy way to look at what's working elsewhere and for public servants to find people with experience to talk to before their project is implemented.
"[At Apolitical], we are interested sharing ideas, particularly around wicked problems like climate change, refugees, or artificial intelligence. One of the things we create is a free weekly briefing of the best of what governments are doing to solve the world's most urgent problems. We also have a private online network of innovative public servants from 19 countries. We only started last October, but we've already seen exciting ideas taking off across different geographical boundaries."
For example, a ground-breaking phone-based anti-corruption programme in Pakistan is now being worked on for adaption in Sri Lanka. And an American system which brings high-flying technologists and entrepreneurs into government is being studied for replication in Australia and Singapore.
There are even a few innovative New Zealand projects highlighted on the Apolitical website, including the Givealittle crowdfunding campaign that raised more than $2 million to buy Awaroa Beach for the Abel Tasman National Park.
Although Robyn hasn't lived in New Zealand since the early 2000s, she says her time at the University of Auckland was pivotal for what she's achieved since. She studied bioinformatics, partly because of a love of science and maths, and partly because she was told it was the newest and most difficult science course available.
After finishing her degree she applied to do an MPhil at Cambridge, but was told she couldn't do postgraduate work there because she hadn't done honours. Undaunted, she persuaded her favourite Auckland lecturers to write letters asking Cambridge to give her a chance; "I wasn't qualified for the course I wanted to do, so they wouldn't process my application, but I sent them a package of testimonials and I told them I'd keep phoning until they opened it. Eventually I got an interview." And she got the prestigious Gates Cambridge scholarship, awarded to "intellectually outstanding postgraduate students with a capacity for leadership and a commitment to improving the lives of others".
Ten years later and Robyn – now based in London – is still convincing people to do the right thing. As well as her other roles she is now an ambassador for the Access to Medicine Index, a Bill and Melinda Gates Foundation-funded organisation that ranks pharmaceutical companies' efforts to improve access to medicine in developing countries. To fill any free hours, she is on the advisory board of the Responsible Mining Index, and an investor in several tech and social enterprise start-ups.
An impossible schedule? Robyn admits she's a bit of a workaholic, and "not that good at holidays".
"My parents drilled into us that we are so lucky to have what we have, and that if you care about problems, you should do something to solve them.
"One of the nightmares I had as a kid was not doing enough in life. I still have that nightmare."