Alumni story: From adman to milkman
How a former advertising guru got the whole country in a froth over chocolate milk.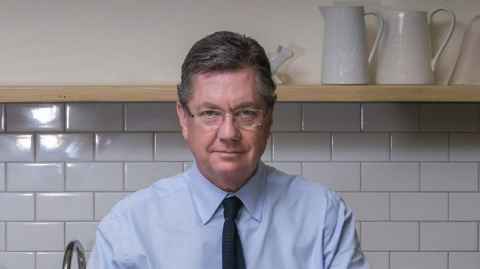 Peter's story
If Peter Cullinane got knocked down by a bus tomorrow, you can guarantee the headlines wouldn't be about the tragic death of one of New Zealand's best-known advertising names; a man in the C-suite of one of the world's top ad agencies.
They probably wouldn't mention the stellar career of a college dropout who ended up with an MBA and a master's degree (both from the University of Auckland), plus one of those super-tough short-course MBAs from Harvard where you work 23 hours a day.
You wouldn't hear about Saatchi & Saatchi, Assignment, Antipodes Water, SkyCity, or STW – all companies he is (or was) involved with.
Instead, it's a good guess the headlines would reflect Peter's recently-acquired, near-celebrity status as the guy that made chocolate milk a must-have purchase – the Hermès bag of the dairy aisle.
The story of Lewis Road Creamery is now the stuff of urban legend. The company was launched in 2011 after Peter, out shopping for ingredients for his trademark ham baguette lunch, wondered why he was living in a land of 6.7 million dairy cows and eating Danish butter. He set off to make and sell butter like he remembered it from his childhood in Wellington. This was a process that involved sourcing organic milk, finding a contract manufacturer, designing packaging – but, ironically, didn't involve advertising.
After Lewis Road butter came milk, but the company remained niche until the now-famous chocolate milk was launched in late 2014. For no reason even Peter can fathom, Lewis Road chocolate milk saw normal people becoming unhinged over their weekly shop at the supermarkets. There were rip-offs in cafés and schools, even a secondary market on Trade Me.
Lewis Road now has 50 percent of the organic milk market and leads the flavoured milk category with 33 percent. It launched coffee and vanilla milk in September, four flavours of ice cream in February this year, and – in an unexpected move away from dairy – kibbled grain bread in October. There are plans for at least another three new products by the end of the year.
If you are looking for the stereotypical ad man, Peter Cullinane isn't it. His parents were children of the depression: both families lost farms in the 1930s and Peter's dad, despite being a bomber pilot during the war, was an innately cautious man. His hard work ethic rubbed off on his son: at the time Peter was doing his masters degrees he was also running an ad agency and a dairy company and was on the board of SkyCity and Antipodes Water (where he was a founding shareholder). He hasn't got much time for people complaining about being too busy.
At school he wondered about the diplomatic corp, but a friend of the family offered a job in advertising – and Peter loved it. The ad industry may be in the doldrums today, but in the 1970s it was the equivalent of the world of tech start-ups now. It was new, exciting – and very lucrative; kids barely out of school uniforms were making big money and driving fast cars. A 19-year-old Peter found himself running the advertising account for the Air Force (a large piece of business in those days); less than five years later he was running the Wellington arm of up-and-coming agency Mackay King, at that time led by the legendary Terry King.
And he was good at it. By the time Mackay King was bought by Saatchi's in 1988, the agency was the second biggest in the country.
It was the high life, but for Peter advertising isn't a glamour, lies and spin job, Mad Men-style. When he returned home from New York after the 9/11 bombings in 2001, he co-founded a new glitz-free advertising company, Assignment. The agency didn't pitch for accounts, didn't enter awards and didn't talk to the media.
Assignment's initial line-up included two of the great creative brains of the time – Kim Thorp and Howard Greive – but the agency pushed a policy of "commercial clarity".
"It's not enough to have great ideas," Peter wrote in the Assignment bible, The Good Suiting Guide. "They need to be presented in a way where they are shown to maximum advantage. Where's the rationale, strategy, competitive analysis? Where's the work another agency wouldn't bother to have done…
"If there is no measure of campaign effectiveness, there should not have been any campaign investment. You have an obligation to be a steward of your clients' expenditure. Make sure you know what success looks like."
He says that what appeals to him is is the intellectual nature of advertising – the process by which a team made up of creative and strategic thinkers takes a client problem and comes up with a solution.
"You get exposed to an extraordinary number of different challenges and they are all of a cerebral nature. You are going from one situation to another utterly different situation – and that might happen six times in a day. You learn to make big leaps very quickly and that's what keeps you on top of your game. "My view is that in my job I use all of the brain cells I've got, and I think lots of people don't."
In 2010, it was the desire to keep his brain cells active that led to Peter (then 56 and involved in four companies) to go back to university. It bugged him that having dropped out of Victoria University as a teenager, he didn't have a degree. You might think that after running a New York-based agency with 130 offices in 70 countries and over 6000 employees, he wouldn't have much to learn from a masters degree. You'd be wrong: "I was completely out of my comfort zone. I'd run a lot of businesses, but suddenly I was faced with putting academic rigour behind it. It was very challenging. It was fantastic."
Peter went straight from his MBA to a Master of Management (and got straight 'A's all the way through).
In particular, the University of Auckland classes and research work gave Peter the chance to develop his ideas about leadership. He says most business theory focuses around leaders versus followers, but his experience in ad agencies has put him into contact with people who were neither leaders nor followers but independents, mavericks. Advertising creatives like his friend Kim Thorp, for example. And what about university professors, airline pilots, hospital specialists, artisans. The more Peter researched these "independents", the more he wondered whether half the people he knew didn't fall into that category.
"Most people in leadership positions like to think of the people under them as followers, but in so many cases they are just doing the job that they like to do. Take university professors. They can't do the job unless they are part of the academic structure, but they aren't following anyone. Or television news editors. Or airline pilots. They are in charge when they step on the plane, and they are theoretically answerable to people in the company, but often they actually think management are complete losers."
If and when he does his PhD, that's the topic Peter is going to explore. Right now, however, he hasn't got time. He's got a supermarket-worth of brands to disrupt. So he'd just better steer clear of any buses.