The University's Chinese Alumni Club holds first-ever online event
For entrepreneurs and business owners, steering a business through the challenges and uncertainty we face in 2020 and beyond is critical. Our Chinese Alumni panel share their insights into using entrepreneurial thinking to be more resilient and adapt to the changing environment.
The University of Auckland Chinese Alumni Club hosted the eighth edition of its popular Entrepreneurship Series on 21 October 2020, featuring University Chinese alumni panellists Iyia Liu, Daniel Xu, and Jessie Liu.  
The event kicked off with a warm welcome from Deputy Vice-Chancellor (Strategic Engagement) Prof Jenny Dixon and an address from our new Vice-Chancellor Prof Dawn Freshwater. 
The event featured a panel moderated by Club President Rachel Yang, focusing on the topic, "Steering a business through challenges and uncertainty". The viewership of the event exceeded 1000, which was an amazing milestone for the Club this year.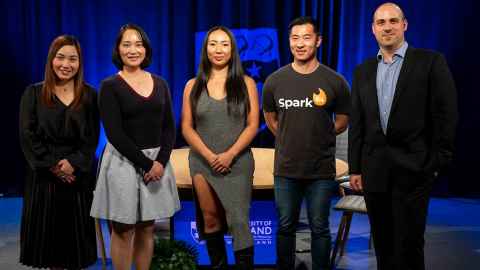 Iyia Liu is an experienced business professional who runs a reality show business called Boss Babes. Being an entrepreneur and a TV host, and with many years in business management, Iyia is brings an exceptional perspective on business planning, emotion management and digital marketing. When speaking about Covid-related threats she faced personally and in her businesses, she said they give us all a chance to learn how to evolve and adapt, and quickly turn threats into opportunities.
Harnessing technology to effectively manage risk and change they way we do business are two of key takeaways from Daniel Xu's experience. For him, handling changes in his business is about staying at the cutting edge of technology, understanding the market and customers and keeping the team culture alive. He suggests that having business agility in uncertainties can help create big opportunities. Daniel also feels that adapting is key, but it is equally important to enable teams to cope with stress and new working arrangements.

Jessie had been in the medical services industry for the last 13 years, where she finds opportunities in harnessing technologies for her business. She has been successfully using technology-enabled medical services to adapt to emerging patient needs brought on by Covid. Virtual consultation has long been a feature of her clinics, which provided a solid foundation to further develop digital medical services for patients this year. Her first response to Covid was to create a fast-moving strategic plan to incorporate more technologies into other patient services, such as setting up new payment solutions, electronic prescriptions and providing free prescription deliveries. Persevering through all the hardships together this year and equipped with training and sustainability programmes, the service delivery team has become more united.
After sharing their insights on uncertainty, the entrepreneurs gave great advice on dealing with the challenges of the changing business environment. Jessie highlighted the importance of having a business contingency plan to review annually and suggested looking ahead to be prepared for future uncertainties. Daniel thought stress management will help steel wheel the business in uncertainties. And Iyia suggested one to be able to adapt quickly in business management to face the constant changing environment.

To connect with or find out more about the Chinese Alumni Club, join the Club Facebook page or email chinese.alumni.uoa@gmail.com.
By Alumna Jessica Miao, CEO & Founder, UMS Social & University Alumni Relations Manager Joel Terwilliger.