Jazz, Cloud Theory, and a medieval twist
A husband and wife team from the School of Music at the University of Auckland, Roger and Caro Manins, will both be performing their Doctor of Musical Arts (DMA) recitals this week.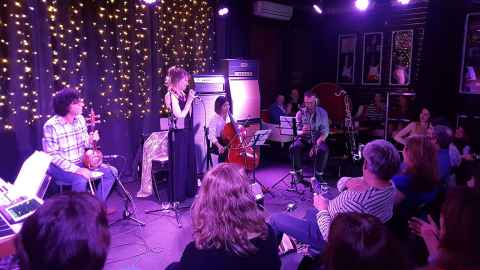 Roger Manins is a senior lecturer at the University of Auckland and widely regarded as one of the premier saxophonists in the Southern hemisphere.
He has appeared on approximately 30 Jazz albums as a soloist, released four albums under his own name and two more in collaboration, and in 2012 was awarded the Jazz Journalists Award (JJA) 'Jazz Hero' for services to the community.
For his recital he will, in his composition, demonstrate Circle Cloud Theory, a system he devised to help with jazz improvisation and composition.
"It is flexible in nature and though primarily used to generate harmonic material, can also be adapted to develop existing harmonic material," he says.
The theory borrows from the concepts of saxophonist Steve Coleman and theorist Ernst Levy, but takes their ideas in a new direction he says.
Caro (Caroline) Manins is a UK-born singer, composer and performer who also teaches at the School of Music. Her current research explores ways in which medieval music and jazz music can interact.
The music that has come out her research is a synthesis of medieval song, traditional songs transmitted through oral tradition, Eastern influences from Iberia and contemporary jazz.
Her Sephardic CD Mother Tongue (2011) offers a contemporary twist on the songs of the Sephardic Jews of Spain, which music reviewer Graham Reid described it as an enchanting album "which embarks on a courageous journey but which will take you along for an exotic, often quite moving, voyage of discovery".
Roger and Caroline Manins are also (with Ben McNicoll) co-founders of the Creative Jazz Club Aotearoa, an artist-led initiative to support and promote the performance of original and contemporary jazz and improvised music in Aotearoa, New Zealand.
For Roger Manins it will be his final DMA recital, and for Caro Manins one of several recitals to come in partial fulfilment of her DMA.
Both Roger Manins final DMA Recital and Caroline Manins – DMA Recital will be performed at the Kenneth Myers Centre.