A question of gender balance
To mark International Women's Day we talk to three senior women research scientists in the Auckland Bioengineering Institute, about the question and challenges of gender balance.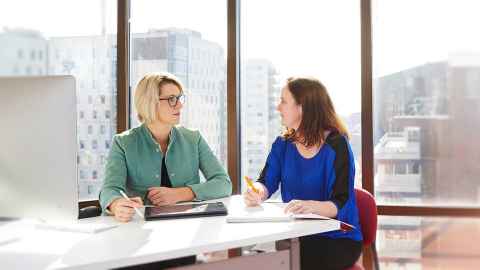 Professor Merryn Tawhai is Deputy Director of the Institute and leads the Lung Research Group, Dr Jenny Kruger a lead researcher in the Pelvic Floor Research Group and Alys Clark leads the Placenta Research Group.
They work at an innovative world-leading institute that aims to improve medical diagnosis and treatment of injury and disease, through the application of engineering sciences, technical innovation and a better understanding of human physiology.
The ABI is a great place for women, they say. "We like to think we have a very inclusive environment, and having been here from the start, I think we do," says Professor Tawhai. "Personally, I have not had any road blocks put in front of me, and I've also had great mentorship, particularly from Peter [Hunter, Director of the ABI].
"He mentors people not because he's thinking about gender, but he's thinking of a person, and he wants others to succeed."
Yet all three would agree that there is a gender imbalance at senior levels in the bioengineering and applied mathematics fields, that there aren't enough women, and they would like to know why.
"The gender imbalance in general, is something I do feel quite strongly about," says Dr Kruger. "We have a lot of female talent at ABI and men and women are different - women bring a different perspective, a different vision.
"It's an interesting phenomenon. If you look at gender balance among postgraduates we're pretty evenly split, but further along, among postdocs and senior researchers, we tend to lose women.
"It would be really helpful to know why, so that we as an institute can start to address this. On a personal level, I have generally felt well supported by my colleagues – so that makes it even more important to know why many our female colleagues do not stay."
It's complicated, they say. Lingering stereotypes could still be putting some girls off maths and engineering. "The stock image of a mathematician is still often a man by a white board, or of an engineer, a man in a hard hat," notes Dr Clark.
There are the indefinable things that people can sometimes say and do which can make some feel out of place. "As nice as we might think we are, when an individual does not identify with those around them it is easier for them to decide to leave," says Professor Tawhai.
 
It's important that women in a certain position have visibility. And while I might have got my opportunities from men, I have a responsibility to create the same opportunities for others, particularly women.

"That is also true for different ethnic groups, religion, or any minority. So the innocent unconscious things that someone does – with no ill intent – might be something that makes another person feel less included."
But like does tend to attract like. "I have never actively recruited females, yet despite that I have historically had just over 50 percent female postdocs and students on my team, says Professor Tawhai. (The same is true for Drs Clark and Kruger).
"So this could be anecdotal evidence that some students are attracted to someone with whom they can identify. The more senior female staff we have, the more we increase their visibility, perhaps the more young women we can attract."
"It's important that women in a certain position have visibility. And while I might have got my opportunities from men, I have a responsibility to create the same opportunities for others, particularly women."
Dr Clark agrees. She has often been asked 'what's it like being an engineer, as a woman? "At first I didn't even notice the gender imbalance, but then I kept getting asked that. I must say, I was shocked at the statistics.
"I did maths originally, before moving into engineering, but I was always into those technical things as a kid, building things, making things. It never occurred to me there would be any other direction. I was the kid with the Meccano sets." That her father was an engineer may have helped "but I'm the only one out of four kids that has gone into science; everyone else did Arts degrees."
The message that women can do anything has been with us for some time. "And people ask, 'hasn't this been sorted out by now, don't women have equal opportunity?'" says Professor Tawhai.
"In some ways they do. There are still some entrenched attitudes, and there will always be some challenges. So women should go into engineering, expecting equality, but there will still be some challenges that they need to work around. But we have a long way to go and the field has got to recognise that we have to keep on supporting women."
 
Want to help us make a difference?
There are many ways you can make a difference and support the Auckland Bioengineering Institute - you can make a donation or bequest, or even subscribe to our newsletter.