Brain science captivates audiences at Brain Day
During March, the Centre for Brain Research partnered with the Neurological Foundation and Brain Research New Zealand to present four brain awareness events spanning diverse areas of neuroscience and engage the public with the latest research in the field.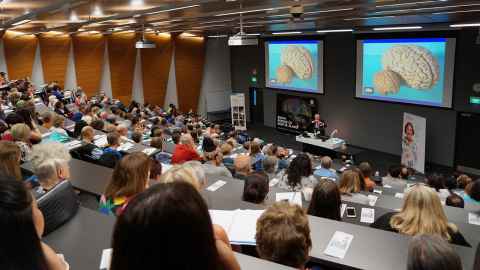 Brain Day, the biggest event for the month, was hosted at the Faculty of Medical and Health Sciences, home of the Centre for Brain Research. The event drew a good crowd and there was lots of buzz at the stands as visitors interacted with scientists and community groups.
The Brain Day public talks were well attended with visitors keen to find out more about 'Stroke Rehabilitation', 'The Magic of the Human Brain' and 'Migraines and Headaches'. Audiences were captivated by the talks and posed some great questions to the speakers.
The CBR CeleBRation Choir – a therapeutic community singing group which helps people with communication difficulties related to a neurological condition – also performed during Brain Day, getting the audience singing and toe-tapping to familiar tunes. The Choir also opened the final panel discussion for the month.
Games and challenges from the 'Being Brainy' programme run in schools fascinated younger visitors who spent hours interacting with the challenges and learning about neuroscience.
The community short talks covered diverse themes including the CBR Gavel Club, the Stroke Foundation, 'Dealing Daily with Dementia' and 'A Primer on Concussion'.
Before and after Brain Day, the Thursday evening public panel discussions also engaged the public and were popular. Presenting a range of topics on brain science – 'Understanding Autism and Learning Differences', 'Neurological Gene Disease' and 'Memory and the Ageing Brain' – the discussions provided an opportunity for members of the public to pose questions to our panelists.