Global internship experience
Sophie Offner shares her experience as a global intern in Medellín, Colombia.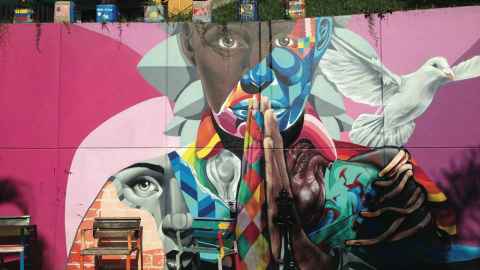 Sophie Offner joined 20 other University of Auckland students in Medellín, Colombia at the end of last year, to embark on a 12-week adventure as they interned for local organisations, explored the country and immersed themselves in Latin American culture. Sophie shared her initial impressions of Medellín as her time in Colombia unfolded:
"Medellín is a magical city. A sprawling metropolis situated within the Aburrá Valley, Medellín's turbulent history and remarkable transformation fills the city with sense of optimistic anticipation. Before arriving here, I spoke with many people about the country, and the conversations usually included nervous smiles, the occasional wince, and countless warnings. However, the few Colombians I spoke with were filled with nothing but excitement for me, showering me in their enthusiasm and obvious delight in sharing their culture, country and art with me.
"Travelling from Bogota to Medellín, we met a young man from Medellín returning home. He recognised us immediately as exchange students, and in no time at all he had welcomed us warmly and filled us with pictures and stories of a vibrant city on the move. He was absolutely right. Medellín is a charming and bustling metropolis with impressive and expanding infrastructure. The public plazas, the Metro and the abundance of urban green spaces within the city highlight the city's development and, in turn, emphasise the pride of its people. Public plazas fill up at midday as the entire city comes out to share 'el plato del día' and outside the Metro, orderly lines form. The metro is almost entirely free of vandalism, and passengers treat it with a strong sense of care and pride."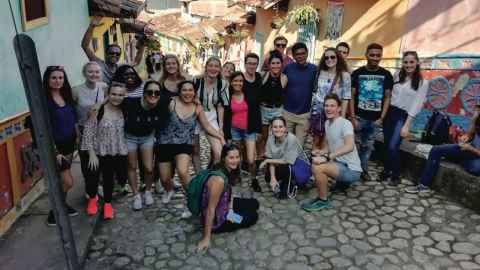 Sophie was chosen for an internship in Medellín that is funded by the Prime Minister's Scholarship for Latin America and interned with Comfama, a not-for-profit organisation that provides social support services to over 2.5 million people across Colombia. Established in the 1950's as a collaboration between unions and the private sector aiming to improve the lives of the working population, Comfama works to reduce inequality by providing services to beneficiaries through 150 centres across Colombia.
Sophie wrote, "My team within Comfama have welcomed me with open arms. The strong sense of belonging and their obvious enthusiasm to work with me have laid the foundations for an incredibly rewarding three months, so I can't wait to learn more about the unique social enterprise that is Comfama, the people that shaped it and the city that embraced it."
Interning abroad is an instant cultural immersion experience, inviting students like Sophie to jump in to life in another context and gain valuable work and life experiences in a completely different context.
If you are interested in learning more about University of Auckland global internship opportunities, contact our Career Development and Employability Services.