University of Auckland cancels Autumn Graduation processions
University of Auckland Vice-Chancellor, Professor Stuart McCutcheon, advised graduands today that the processions for the Autumn Graduation ceremonies have been cancelled.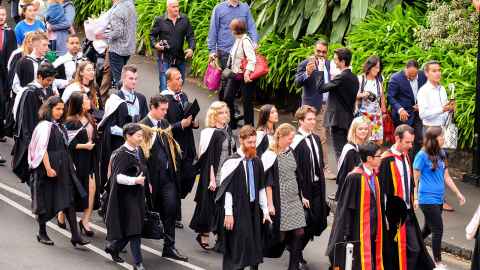 This does not include the actual ceremonies- just the daily processions from the University to Aotea Centre.
The Vice-Chancellor said that following discussions with the
Police and others, he has regretfully found it necessary to make this decision.
"There are two reasons for this. First, we know that following events such as the Christchurch mosque shootings there is a period of several months during which the risk of related or copycat terrorist events is increased. Although we know of no specific risk to the graduation processions or ceremonies, we nevertheless need to consider that increased general risk.
"Second, while there would be ways of significantly decreasing the risk associated with the processions, these would involve blocking off all intersections and side streets between Old Government House and the Aotea Centre to ensure that there could not be the kinds of 'vehicle as a weapon' incidents that have been seen in other cities. This would lead to a level of traffic disruption that may be unacceptable to the City but that, even if acceptable, could not be negotiated and organised in the time available."
Professor McCutcheon reiterated that the decision applied only to the Autumn Graduation processions; it is the same decision that has been made by other tertiary institutions (including University of Canterbury).
"We also, of course, pay careful attention to health, safety and well-being matters related to the ceremonies themselves," he said. "I am confident that we are doing everything necessary in this regard."
Graduands have been advised to go directly to the Aotea Centre and that nothing had changed in respect to the timings and locations of faculty functions or other associated events.