Quantum computing: public lecture series
What is quantum computing? This free public lecture series discusses what quantum computers are and how they might shape our future world.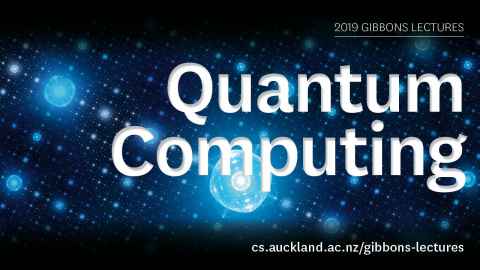 This lecture series is hosted by the University's School of Computer Science and all lectures and the final panel discussion will be live-streamed.
Lectures begin on 8 May when Dr Michael Dinneen from the University's School of Computer Science explains what quantum computing is and compares it to traditional computing.
Currently three types of quantum computer are proposed or being built, promoted by big-name companies such as Google and IBM.
On 15 May Professor Steven Galbraith from the Department of Mathematics discusses how quantum computers will be able to break some of the most widely-used online security systems and discuss which systems are potentially most vulnerable.
Visiting Professor Michael Bremner from the Centre for Quantum Software and Information at the University of Technology Sydney delivers his lecture on 22 May discussing the challenges involved in developing and building quantum processors, work that fundamentally pushes the limits of physics, engineering and computer science.
The series wraps up with a a panel discussion on 29 May where Professor Howard Carmichael from the Department of Physics and Professor Cristian Calude from the School of Computer Science will look at the future of quantum computing.
Lectures begin at 6.30pm and are held in Room 092 of the Owen G Glenn Building, 12 Grafton Road. Light refreshments served from 6pm in the Level 0 Foyer.