Water should not be a labelled as a 'free' resource according to University of Auckland graduating student Hannah Watson.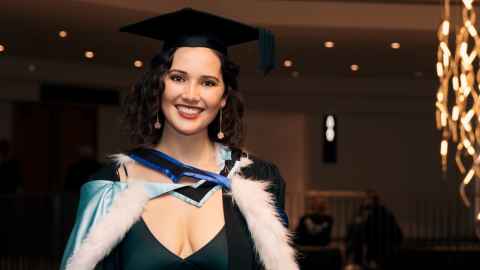 The twenty-four year old who was capped yesterday with a Bachelor of Science, Bachelor of Laws (Honours) conjoint degree, says while management decisions around freshwater proceed on the basis that water is 'free', the real value of the resource goes unrecognised.

Her research entitled Putting a price on freshwater in New Zealand: Can we afford not to? submitted as part of her LLB (Hons) degree investigates the benefits of using a water abstraction charge as an economic tool to account for the value of water.
As a nation faced with the increasing degradation of our freshwater in
terms of both quality and quantity, we must accept that our current freshwater
management regime, the Resource Management Act 1991, is struggling to
adequately manage this precious resource.
But the proposition of a charging regime has met with strong resistance, on the grounds that imposing a charge on freshwater asserts ownership by the Crown, which would result in Treaty of Waitangi claims by iwi.

However Hannah argues that Crown ownership is not a necessary requirement for the establishment of a water charge as the Crown can impose a charging regime on water abstraction, without needing to own freshwater in its natural state, through the exercise of its sovereign rights to manage natural resources.

Currently Māori rights in water are "unascertained". But says Hannah "Unsettled Māori proprietary claims in water does not prevent the government imposing a charge."

"Māori's role in a water charging regime will need to be considered in order for the Crown to satisfy their Treaty obligations. Some form of co-management arrangement in regard to the distribution of the funds collected from the charge may be a possible solution."

Hannah, who is now employed as a Law Clerk says "the ongoing intensification of the agricultural sector, increased competition and over-allocation of water resources, continues to put pressure on an essential finite resource."
"A water abstraction charge would raise revenue to fund water restoration projects, and if volumetrically-based, would encourage more efficient water use. Only then will we treat our freshwater as a precious resource," she says.