Senior Scholars and Dean's Awards
Forty-eight high achieving current and graduating students were honoured at an Education and Social Work ceremony this week.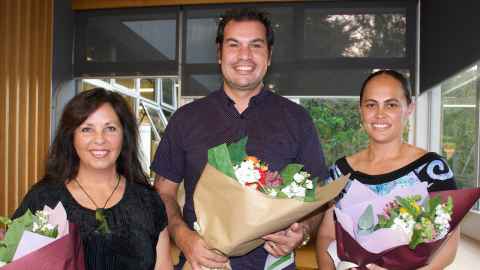 Behind the smiles and celebrations, a lot of hard work, sacrifice, determination and perseverance goes into achieving an award, say three of the top graduating students from the faculty.
Rita Burgess, Eruera Abraham and Debra-Kim Croggon completed their Bachelor of Education (Teaching) Primary specialisation at Manukau last year and are among the 18 Senior Scholars in Education and Social Work with the highest Grade Point Averages in the faculty. All of them agree that success required them to dig deep and overcome challenges.
"This is huge!" Rita Burgess said. "I get emotional every time I get an award because I reflect on the path it took me first to get into University and then the path of getting through it." As well as studying full-time Rita has been bringing up three children. "That means time is precious. I had to prioritise study over quite a few things. It was not easy, but I made it. Not only did I make it, but I got this award as well. I am very thankful and humbled."
Rita is now studying an honours year and "can't wait" to get her own classroom. To people considering teaching she advises, "If you have a love for children, do it. From the experience I have had through studying, it is one of the most rewarding feelings. The cool thing about it is that this is your job."
If you want something, go get it. Nothing is in your way if you try hard enough. I wanted to do the best I could and didn't want to put in any less than that.
All three students paid tribute to the supportive atmosphere of the Manukau programme. "Manukau campus was like whānau," Debra-Kim Croggon said. "As students we formed strong ongoing bonds: we worked together, we supported each other. We developed close professional relationships with the amazing Manukau team. Their doors were always open to listen to concerns and for extra support when it was needed."
Underpinning Debra-Kim's success is her strong belief in her "potential ability to make a difference in children's lives through education – to prepare them as best I can to reach their potential and enable them to make informed decisions that will make a difference to their lives and those of their families".
Senior Scholars in Education and Social Work

Eruera Abraham, Abby Barron, Shaye Brown, Rita Burgess, Pauline Cant, Debra-Kim Croggon, Charlotte Davis, Suzette Jackson, Julia Li, Karen Liang, Kim Lockart, Lois McIver, Tāmati Rākena, Isabella Regtien, Berdine Rickard, Ruby Simpson, Jessica Steele and Sharon Zhou.
Top achievement awards
Bachelor of Education (Teaching) Primary specialisation 1st year Hamish Sealey, 2nd year (tied) Sharon McGrath and Shanae Simpson
Bachelor of Education (Teaching) Huarahi Māori specialisation 1st year Toni Kaiwai, 2nd year Maxine Moeke
Bachelor of Education (Teaching) Early Childhood Education specialisation 1st year Cheryl Baxter, 2nd year Juliette Simpson
Bachelor of Sport, Health and Physical Education 2nd year Rosie Lee
Bachelor of Physical Education 3rd year Megan Schermbrucker
Bachelor of Social Work 1st year Chelsea Sheehan, 2nd year Peter Haufano, 3rd year Yi Xin Heng
Top achieving Māori students awards
Bachelor of Education (Teaching) Primary specialisation 1st year Kahlia Coffin, 2nd year Melina Amos
Bachelor of Education (Teaching) Early Childhood Education specialisation 2nd year Ariana Coop
Bachelor of Sport, Health and Physical Education 2nd year Rosie Lee
Bachelor of Physical Education 3rd year Aimee Wilson
Bachelor of Social Work 1st year Bianca Bisogno, 2nd year Philippa Bell, 3rd year Kendra Cox
Top achieving Pacific students awards
Bachelor of Education (Teaching) Primary specialisation 1st year Paula Hughes, 2nd year James Kaleti

Bachelor of Education (Teaching) Early Childhood Education specialisation 1st year Jane Anufe, 2nd year Toni-Lee Curtis
Bachelor of Sport, Health and Physical Education 1st year La Chey Meredith, 2nd year Daniel Nicol
Bachelor of Physical Education 3rd year Nikita Kolose
Bachelor of Social Work 1st year Karen Polamalu, 2nd year Peter Haufano, 3rd year Huavai Mafi