Meet our first Masters of Community Dance (Honours) graduates
Jane (Jiahui) Liu and Johnny (Longqi) Yu graduated this week as the first students to have completed a Community Dance Masters with first class honours at the University of Auckland - a dual Masters with Beijing Dance Academy. They are also the first to go on to do their PhDs at the University.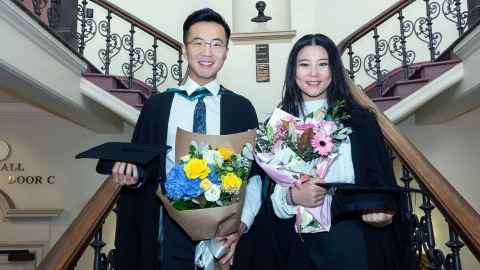 Both have danced for most of their lives. Jane has mainly focussed on Chinese Folk Dance and Chinese Classical Dance, having learned dance since primary school, at a professional level at high school and at HeBei Normal University, China.

Johnny has been learning ballroom dance since he was six, and at the age of 12 was selected to join the Beijing Dance Academy, the leading tertiary dance institution in China, where he studied to become a professional ballroom dancer.

Both Jane and Johnny have won too many awards to mention. Johnny, for instance, won the junior category of the World Ballroom Championship at the Blackpool Dance Festival (the world's first and most famous annual ballroom dance competition) in the UK in 2010.
He was the first and only Asian to win that category in the festival's 62-year history. Johnny and Jane are the first to graduate from the University with a Masters in Community Dance, but what exactly is Community Dance?
It has diverse meanings in different contexts, they say. "There are nearly 200 million community dance participants in China," says Johnny "so understanding the meanings of community dance in China is important."
Which is what led him to explore the topic as his Masters topic. "As I was one of the first group to do the Masters in Community Dance, nobody had yet done an academic thesis in English about its meaning, from a Chinese perspective; so someone needed to do it!"
Community dance is about relationships, says Jane, and for her Masters, she explored collaborative peer (student and student) relationships within student-centred dance classes in several Auckland high schools. She will now look at collaborative peer relationships in tertiary dance education in China for her PhD.
Dance is not only about movement, but also relationships, collaboration, creativity and happiness, she says, and can motivate people and build connections. 
"Dance is unusual because it's spatial. When we touch each other, it's different from when we talk to each other. We can understand each other through movement; so how can we use that for the entire society, not just the dance world?"
Margo White I Media adviser
DDI 09 923 5504
Mob 021 926 408
Email margo.white@auckland.ac.nz