Understanding resilience, through research and personal experience
Rose Francis graduated with her PhD in engineering this week, having also had three children between beginning and completing her qualification.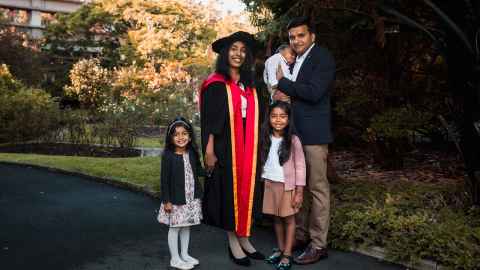 Hannah, her 'provisional year baby' was born in 2013, Sarah her 'data collection baby' born in the third year of her PhD in 2015, and Jacob her 'exam baby', was born in 2018.
Combining children with study was often challenging, and required burning some midnight oil. She had a routine; "I'd study from 6pm to midnight, and be a mother during the day."
Rose pays tribute to the support from her family, particularly from her husband, Twingle Joseph Mathali, a software engineer. "He gave me the courage to chase my dreams," she says. "He gave my PhD wings."
Her supervisor, Professor Suzanne Wilkins, was also invaluable, particularly in the navigation of both academic and family life. "She often said that your family is a glass ball so we need to take care, and the career is like a rubber ball, that can bounce back."
She was also encouraged by the support and friendship of her co-supervisors, Dr Alice Chang-Richards and Dr Sandeeka Mannakkar. "We'd often refer to ourselves as the Girls Gang."
The University of Auckland's Doctoral Scholarship also helped. "That was a huge support, throughout my studies," says Rose.
Rose's research topic was "Resilience through Building Back Better: Assessing Christchurch Recovery following the 2010/2011 Canterbury Earthquakes."
She has had close-up experience of disaster recovery. She and her husband are both from Kerala, and soon after Rose started her graduate studies two coastal villages in the southern state of India were wiped out by the 2004 Indian Ocean tsunami.
"During that time I visited many disaster affected areas. There were so many issues; lack of expertise, poor governance, lack of strategies, no planning," she says. The recovery process was, in short, "a huge mess".
"I could see the impact of disaster," says Rose. "That's when I decided I wanted to work for communities, especially vulnerable populations. That interest has driven me to major in disaster management."
Having identified the need for better models and frameworks for proactive post-disaster recovery, she contacted Professor Wilkinson after the Canterbury earthquakes. "And she offered me a place on her team."
It was soon after, though, that her own world was struck by a very personal disaster. Her first-born, Eiten died from pulmonary hypertension. "It was a very hard time for us, but we recovered. We have to. We are resilient, like Christchurch. Every person is unique, and so is their response to life."
The ways a community or country responds to disaster is also unique. "It can be an opportunity to rebuild in a better way."
"We know a PhD is a roller-coaster ride, and there will be many reasons to give up but for me, there was always an important reason to move forward. Eitan was my inspiration. This PhD is for him."
 
Margo White I Media adviser
DDI 09 923 5504
Mob 021 926 408
Email margo.white@auckland.ac.nz