Easing pain for amputees proves a winner
A pair of University of Auckland engineering students have wowed judges at TechWeek with their pitch for pain-free prosthetics for amputees.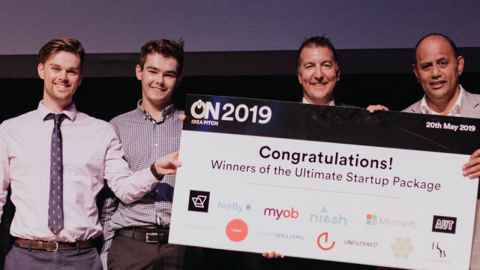 Connor Talbot (electrical engineering) and Sebastian Weaver (mechanical engineering) have been awarded the ultimate start-up prize pack worth $60,000, to get their venture ProstheteX up and running.
Their prosthetic limb solution uses a 3D printing process and recyclable material to produce a prosthetic that is predicted to reduce the pain points for amputees, while being 58 percent cheaper and 67 percent faster to make.

"The majority of amputees suffer pain, discomfort, and frustration caused by their prosthetic socket, where the prosthetic connects to the limb," says ProstheteX co-founder Connor Talbot.
"This is due to poor fit, because the current process creates sockets that are hard and inflexible. We saw the problem and developed an idea for a solution using a 3D printing framework," Connor says.
Their ProstheteX sockets are designed to be flexible on the inside to better fit the amputee's limb.
While 3D printed sockets are already in existence, the students believe there is room for huge improvements as new materials and processes such as 3D printing, or additive manufacturing (AM), are being rapidly developed.
The University of Auckland's Creative Design and Additive Manufacturing Laboratory is already at the forefront of this technology. It is led by Professor Olaf Diegel, who is also academic supervisor for Sebastian and Connor.
Their concept was also supported by the University's innovation community including UniServices and the Centre for Innovation and Entrepreneurship's Founders Hatchery.
 
We are starting our prosthetics revolution right here, helping our own amputee community.

"Our ambitions are eventually global but here in New Zealand we have a community of around 4,400 amputees with around 500 new referrals each year," Connor says. "We are starting our prosthetics revolution right here, helping our own amputee community."
Connor's journey to prosthetic limb designer began at Auckland's SPCA, where he works part-time as a farm animal assistant.
"I saw many injured animals and it got me thinking about how I could help with prosthetics. However it is very difficult to get feedback from animals and to know if your solution is actually helping them, so with Sebastian on board we moved to human prosthetics.
"In the future we hope we might be able to transfer our new knowledge and designs into animal prosthetics again."
ProstheteX was named the ultimate start-up at Monday's ON: Pitch event held during TechWeek 2019, New Zealand's nationwide festival of technology and innovation.
Both the judges and the audience decided which team received more than $60,000 worth of business necessities to make their pitch a reality, including office space at the B:Hive at Smales Farm.