Paperless classrooms a winning initiative
A project to make a course paperless won the 2019 University of Auckland's Environmental Sustainability Award at the recent Vice-Chancellor's Excellence Awards.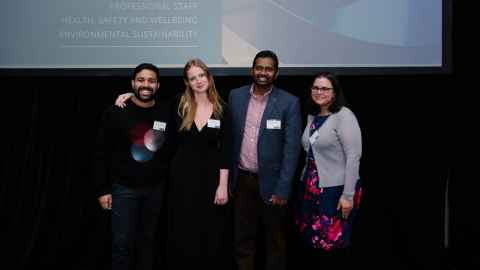 The Environmental Sustainability category is awarded for excellence in enhancing the University's environmental performance and sustainability.
The BUSINESS 101/102 Paperless Classroom Project team embarked on a year-long mission to re-engineer the content, materials and processes of two undergraduate courses in the Faculty of Business and Economics. Each course enrols between 1800 and 2300 students and used around 71,966 A4 sheets each semester with costs of printing estimated as high as $22,000 per annum.
The team of academic and professional staff worked to:
Revise class exercises to remove the need for physical workbooks.
Replace workbooks and handouts with desktop whiteboards and electronic resources via Canvas.
Replace worksheets with laminated sheets that students can reuse semester after semester.
Move the submission of in-class assessments and research assignments completely online via Canvas and Turnitin respectively.
Trial and manage procedural difficulties in Canvas.
Train and facilitate the 16-20 staff who teach BUSINESS 101 and 102 so that the overall student experience was seamless.
The University's Sustainability and Environment Manager, Lesley Stone said the Paperless Classroom Project were clear winners due to the success of the initiative. "The team have managed to reduce paper use to printing costs of $100 per semester. But the most exciting element is all the activities undertaken by the project team are transferable to different courses and programmes around the University."
"We did expect the results to be significant because we spent a considerable amount of time planning and trialling things to maximise their impact", said Dr Parizad Mulla Professional Teaching Fellow (Course Coordinator, BUSINESS 101/102) "However the best part of the project for me is knowing that it is not a one-off achievement. The impact of the project will continue to be felt semester after semester in the Business School, and I hope will influence others to follow suit."
The project team hopes to have classes in 2019 and beyond to be entirely paper/printing free. They also extend their involvement in maintaining results, disseminating experiences and seeking ways in which to continue improving the environmental performance of these two courses and the broader University as a whole.