Changing horticulture and healthcare, with robotic technologies
Professor Bruce MacDonald of the Faculty of Engineering has been named a finalist in this year's KiwiNet Research Commercialisation Awards, for revolutionising horticulture and healthcare with cutting edge robotic technologies.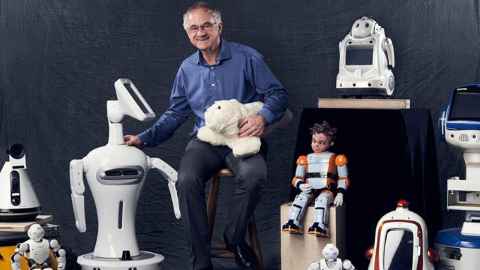 The awards are designed to celebrate impact from science through successful research commercialisation within New Zealand's universities, Crown Research Institutes and other research organisations.
Professor MacDonald is a finalist in the Baldwins Researcher Entrepreneur category, which recognises an entrepreneurial researcher who has made outstanding contributions to business innovation, or has created innovative businesses in New Zealand through technology licencing, start-up creation or by providing expertise to support business innovation commercialisation within New Zealand's universities, Crown Research Institutes
and other research organisations.
An early enduring fascination with science fiction as a child led Professor MacDonald to dedicate his life to building robots to help people.
He has worked tirelessly and collaboratively to advance not only his own world-leading research but also that of the wider New Zealand research community working on robotics, sensors and automation.
Professor MacDonald is founder and director of the University of Auckland's Centre for Automation and Robotic Engineering Science, where he has successfully led and launched substantial MBIE-funded agritech research programmes with industry partners in the Agritech sector, who are taking the new science and technology to the marketplace.
The Autonomous Multipurpose Mobile Platform – a robot capable of picking and pollinating kiwifruit and flowers was developed by a multi-institutional team under Professor MacDonald's leadership, in partnership with commercial partner Robotics Plus.
Professor MacDonald's reputation for excellent, high-impact research in robotics and eldercare has been recognised internationally, leading to major collaborations in Japan and Korea.
He and his team are currently collaborating to develop assistive robotics technology in the aged-care sector with colleagues in the health sciences, and end-user partners such as Selwyn Foundation.
As Deputy Director of the Science for Technological Innovation NSC he has inspired and guided dozens of Spearhead and Seed projects tackling complex and difficult science questions that, if answered successfully, will lead to the development of multiple novel technologies may lead to a transformation of the New Zealand economy.
Paul Stocks, Deputy Chief Executive of MBIE's Labour, Science and Enterprise group, says that by commercialising their research, these researchers are helping to overcome current and future New Zealand and global problems.
Winners will be announced at an evening reception on 7 August in Auckland.
Margo White I Media adviser
DDI 09 923 5504
Mob 021 926 408
Email margo.white@auckland.ac.nz