Kiwi refugees on social media: a digital lifeline?
Social media provides a vital lifeline to Kiwi refugees' home countries and also to important opportunities and connections in New Zealand.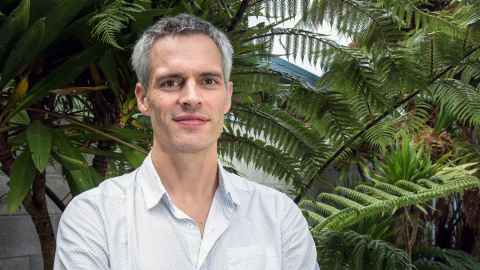 However for some it can also become a barrier to creating face-to-face relationships. These are some of the findings of a year-long study carried out by Associate Professor Jay Marlowe from the University of Auckland's Faculty of Education and Social Work.
Dr Marlowe's research involved 50 online interviews with 15 people from refugee backgrounds – eight women and seven men from countries as diverse as Afghanistan, Myanmar and Sudan.
He had informal monthly discussions on platforms like Skype, and asked participants to keep 472 social media diaries in which they recorded what social media applications they were using, with whom, for what reasons, and how that made them feel.
While he specialises in refugee resettlement and social inclusion, he says he didn't approach the study with a pre-conceived framework. 
"I started out with some questions and collected data into groups and themes as I went along, and I was so struck by the extent to which social media allowed the participants to live their lives; one male participant said he received about 300 WhatsApp messages, 150 Viber messages and about 50 Messenger phone calls per day."
Other participants referred to social media as "a source of hope" that they will meet their loved ones again, "a bridge" between the person and their community, both here and overseas, and as a way of "decreasing the distance" between New Zealand and their home countries.
Integration remains the key feature of most refugee resettlement plans, but in reality, social media now allows refugees to live both 'here' and 'there'.

Social media also provided strong connections to the participants' adopted country, identifying and accessing opportunities for work, education, sports and community events.
But because social media provides a forum in which people can quickly establish opinions as fact with little or no evidence, it can also be a source of fake news, sensationalised political commentary and voyeuristic media portrayals which influence refugees' interactions and opportunities to engage with civic society, he found.
Dr Marlowe says participants also acknowledged that keeping online diaries had given them new insight into just how much time social media was taking up in their lives. "Eight of the 15 participants directly referred to it as an "addiction" or something controlling their lives, with one saying "the more we use social media, the more we rely on it, the more it takes our time".
After thinking about this, he says a number of them tried to reduce the amount of time they spent online and found disconnecting difficult. "For some, giving up social media would mean giving up being social. Every participant in this study noted how access to family and friends through social media was fundamental to their wellbeing."
His conclusions focus on the importance of taking social media into account, both as a way to transcend difference and a platform which effectively reinforces it, in future research and policies on refugee resettlement.
"Although online interactions afford new possibilities, they also present risks in terms of confidentiality, safety, surveillance and people's commitment to local places and relationships," he says. "Integration remains the key feature of most refugee resettlement plans, but in reality, social media now allows refugees to live both 'here' and 'there'."
Refugee resettlement, social media and the social organization of difference by Associate Professor Jay Marlowe was published by Global Networks, a journal of transnational affairs in May 2019. 
His research was supported by the Royal Society of New Zealand under a Marsden Fast Start grant and a Rutherford Discovery Fellowship.