What happens when you combine some of New Zealand's best and brightest scientists with primary age children who have a thirst for learning and an innate love for the physical and natural world?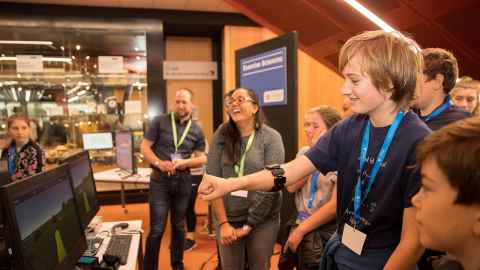 For one day each year, the University of Auckland's Science Centre situated at the heart of the city campus on Symonds Street, is transformed from a place of higher learning to a hive of fun activities for school groups from across greater Auckland.
Incredible Science is a community outreach programme that shows young students the diversity in science and aims to capture their interest. It provides an opportunity to learn and see things that wouldn't normally be in their science school curriculum.
Assistant Head Science Teacher at Albany Junior High School Carli Els, said the day supports and compliments their inquiry learning.
"It's vital that our students know the difference in the sciences," she says. "Students need to know the terminology and language in science to become innovative thinkers and designers in our future."
Once the classes of Years 7 and 8 students and their teachers arrive on campus, student ambassadors take each class on a journey around the Science Centre to visit representatives from Earth Sciences, Human Sciences, Life Sciences, Mathematical and Computational Sciences, and Physical and Chemical Sciences who each have 20 minutes to convey their science through presentations, props, and sometimes a bit of magic. Although, at Incredible Science there is science to the magic.
Alongside the opportunity to take a ride on a magic carpet ie. a hovercraft that defies belief as a fan blows air downward to push the craft upward at the Department of Physics display, students were 'wowed' at Marine Sciences where there was a presentation about the Eleven-armed Sea Star that can split itself in two and regenerate to reproduce. Science in all its glory was met with oohs and ahhs from the excited children, especially when
they found out that the Sea Star doesn't even have a brain.
At the Exercise Science presentation, students were able to see their own brain – via electrodes connected to a computer - register signals from their muscles. While at the Food Science presentation, the students learned about vitamins, and how vitamin C helps our brain to function and supports our body so we don't catch a cold. Taniela Lolohea, a PhD Chemistry student who was one of many volunteers who helped on the day, fielded some of the many questions.
"Children are naturally intuitive and it's easy to spark their curiosity, but Incredible Science gives them an opportunity to ask questions in front of a scientist who has the ability to answer their questions," says Taniela.
One of the many highlights of the day, of course, is the magic show. Head of Department at the School of Chemical Sciences, Associate Professor Gordon Miskelly, really enjoys mixing up chemical potions and exploding balloons to the delight of the audience.
"The magic show gives me the chance to have fun with chemistry and to inspire young students to enjoy science," says Gordon. "I think that the faculty's decision to give invitations to schools outside the Auckland urban area is an excellent idea, since it widens the community of school students who are being exposed to our scientists."
Kathryn Woods, teacher at Pukekohe Primary School agrees with this sentiment."The day is fantastic. Our kids are engaged the whole time, it hooks them in and gives them a taste to want more."
Incredible Science has become a stalwart event in the Faculty of Science's calendar. Like the Eleven-armed Sea Star, it has taken on different forms from the original format as a huge open day during the school holidays, its regeneration into virtual form, as a roadshow, and is now back on campus for invited schools. But it is always a thought provoking, inspirational, and fun event for our tamariki.