New data science programme welcomes students from China
Fifty-five students from Southwest University (SWU) in Chongqing, China are being welcomed at the University of Auckland this week to begin studying under a new agreement between the two universities.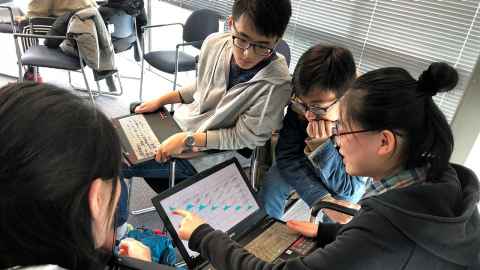 The University of Auckland is partnering with SWU in a joint programme to upskill and prepare Chinese students for a career in data science. A further eleven students arrive early next year and it's expected that up to 120 students per year will take advantage of the programme, which is in place until 2025.

Data science is a rapidly growing area, bringing together skills and knowledge from computer science and statistics to develop technology and techniques to work with extremely large sets of data. Data analysis of this kind has the potential to inform policies and planning that affect almost every aspect of our lives, from health to education, transport and the environment.

Data scientists are in high demand worldwide for skills in data analysis combined with machine learning. SWU students will work with the R programming language, created at the University of Auckland, providing students with a suite of specialised data programmes.

Students from SWU selected to study here undertake three years of study at their own university before coming to Auckland for a further two years. In their second year at Auckland, they will enrol in a Master of Professional Studies in Data Science which provides them with the opportunity to complete a project with the University's business partners to work on an industry problem.

"We think this is a key component of the agreement because it allows students to apply knowledge from taught courses to test cutting edge research techniques in a real-world context," says Professor Sebastian Link from the University of Auckland School of Computer Science.

"This programme allows the University to give back to local industry and to learn from industry as well."

The agreement includes an off-shore teaching component whereby Department of Statistics and School of Computer Science staff will travel to SWU twice a year to teach. This gives SWU students exposure to University of Auckland curriculum and staff prior to them coming to New Zealand.

SWU is a Double First Class Discipline University under the Chinese ranking system with more than 50,000 students. Benefits for SWU under the new agreement include the ability to recruit high calibre students from the provinces in China who can then complete part of their studies at a highly ranked New Zealand university.