A Kiwi experience to foster interest in postgraduate study
Four undergraduate students from the Indian Institute of Technology (IIT) have been working on research projects with our faculty for the past eight weeks.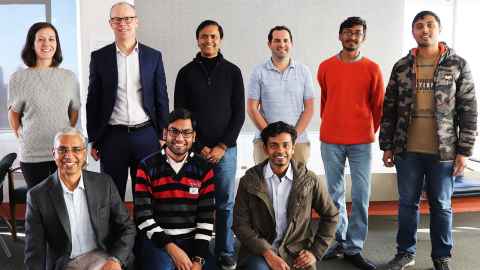 The internships, according to our Associate Dean (International) Professor Partha Roop, are a pathway towards a proposed joint PhD programme offered by two major educational institutions. "We want to attract the best of these students", he suggests, "so we're aiming to offer three scholarships by 2020, and each student will be dual-supervised by two academics: one based here, and another in India".
Dr Roop is positive about the future of the programme, and hopes that as it continues to evolve, it will run parallel with the timeline for summer internships in the northern hemisphere. He also stresses the importance of attracting the right students to enrich our postgraduate cohort.
"We're not just looking for academic achievement, but the right fit for the specific research project on offer. Sometimes this isn't immediately obvious. What actually stuck out to us in the selection process however, was that each applicant was a well-rounded student. Everyone was clearly enthusiastic and are attracted to the prospect of being in New Zealand, so we want to ensure that they get a positive experience out of this."
He adds, "a joint PhD would open up possibilities for both institutions. If you can provide someone with the means to succeed, they are often so dedicated that their enthusiasm would rub off on both places."
Meet our 2019 interns
What made you apply for this internship?
Saif: I received an email with a list of projects, and found the one supervised by Dr Ajit Sarmah interesting. I used to read about green materials research and their applications, but this type of research isn't common in my department. This became one of my primary reasons for applying for the internship.
Ayush: I applied for the internship because the University of Auckland is one of the top universities in the world, so I was excited to work here, among renowned professors in a multicultural environment. It would also provide me with a chance to see New Zealand and meet people from all over the world.
What was it like to be working with your research topic and supervisor?
Saif: This internship allowed me to be exposed to a very different field, one which I did not have prior background in. Learning, understanding, then applying the concepts within eight weeks was challenging, but I had guidance from Dr Sarmah and some PhD students. I believe this skill of quickly grasping new concepts will prove to be immensely helpful in the future.
Ayush: Dr Duleepa Thrimawithana introduced the concept of inductive power transfer (IPT) to me and it has captured my interest. Now that I have experience in it, I would like to work with this technology in the future. My long-term goal is to pursue a PhD, and research in the electrical engineering field, preferably in renewable energy or Electric Vehicles. My experience here has motivated me to further consider a career in research.
Kumarjit: This research topic is very new to me as there isn't a course on Augmented Reality at my home institute. I am however minoring in Computer Science so I have experienced the domains that this can be applied in. Dr Giacaman helped me a lot in understanding both Augmented and Virtual Reality, as well as their ongoing research applications. All of this made me curious about further study in these fields.
Sahil: Online abuse is something which everyone is taking seriously as it is not good for our mental health. I am using some advanced techniques of NLTK and machine learning to address this issue. This was my first major project in the field of machine learning. My supervisors introduced me to some of the advanced algorithms which helped me in my project. I am very grateful for their guidance.
Tell us a bit about being based in, and working at our University.
Saif: I got to work in the Civil Structures Lab at Newmarket, and the Environmental Lab at Grafton Campus, so I gained valuable hands-on experience. Both labs had different working environments and require different skillsets – the former a knowledge of stress, strain, and mechanical testing of materials, while the latter needed more chemistry-oriented knowledge. I really enjoyed interacting with different people of various backgrounds, talking about their experiences, and getting insights into the current research in people's fields.
I also got to learn to use instruments that undergraduates were not allowed to operate at my home institute. This internship gave me a peek into what research looks like and improved my understanding of the subject matter, which was a step towards realising my goals to pursue higher study.
Ayush: I worked in the power electronics lab and it was exciting to work on IPT with the University where the people are pioneers in this technology. This project involved the University's Formula SAE team, which has been a really good experience. I was based at Newmarket so I mostly interacted with PhD students – I learnt a lot from them. These friends that I made are one of my best memories here.
Sahil: I got a good work environment in the heart of city of Auckland. My supervisors were really helpful during my stay and provided a helping hand whenever I needed. My experience at Auckland has removed all the questions which I had for living abroad and boosted my plans for doing higher studies outside of India.
What did you enjoy most about New Zealand?
Saif: I loved New Zealand's scenery – there are so many trees and no pollution. Every sight is breathtaking and my phone is overflowing with pictures! I also got to experience the nightlife here, especially during the recent Matariki celebrations.
Ayush: The best thing about this country is that even while living in the city, I could easily find a peaceful natural escape to calm myself. I enjoyed trekking, wandering in forest trails and saw beautiful gardens, serene beaches and lush green islands. I got to meet people from almost all over the world and saw some of the most beautiful places I have ever seen.
Kumarjit: The atmosphere here has been friendly and forthcoming. It was quiet and clean compared to what I'm used to which definitely helps one concentrate on their work. I enjoyed more things about New Zealand than I am able to list, but I liked how everyone is more respectful of rules while driving, shopping, and so on!
Sahil: New Zealand is a nice and peaceful and I don't feel that even a single day seemed wasted. I specifically enjoyed my weekend trips trekking in the forests ending in waterfalls in west Auckland, those beautiful beaches, hiking to the summit of Rangitoto Island and a road trip to Rotorua region.
2019 IIT internship research projects
Black is the new green: Waste-derived carbon for structural and geotechnical investigations
Saif Siddique, Metallurgical and Materials Engineering, IIT Kharagpur
Supervised by Associate Professor Ajit Sarmah
Development of a High-Density EV Charger
Ayush Sharma, Electrical Engneering, IIT Bhubaneswar
Supervised by Dr Duleepa Thrimawithana
Improving the learning of fluids with augmented reality
Kumarjit Pal, Electronics and Electrical Communication, IIT Kharagpur
Supervised by Dr Nasser Giacaman
Automatic identification of abusive messages
Sahil Jindal, Electrical Engineering, IIT Jammu
Supervised by Dr Kelly Blincoe