Books4Tonga goes University wide
Generous donations of new and used books from staff, alumni and friends of the University will be making their way to readers in Tonga thanks to the initiative of two Business School staff.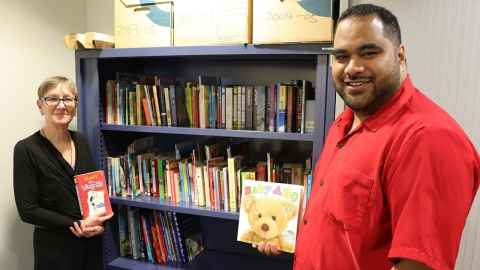 What started last year with informal contributions from Business School staff to Books4Tonga, a registered charity with a vision to establish village run libraries throughout Tonga, has developed into University-wide help and donations to the charity in 2019.
Business School Teaching Fellow Sione Taufa and Group Services Team Leader Herena Newall explain that the Business School's involvement in the charity began small, with Sione's casual call for books for the project going out to his colleagues, then gaining momentum from there.
It was just informal networking initially, asking a few people on our floor and around the building if they had books to spare but we were amazed at the response,

The 2018 drive resulted in a container load of books being sent to Tonga. This success prompted an official university-wide approach for 2019, with Sione and Herena extending the call out to alumni, staff and students and establishing several designated donation points in other faculty buildings around campus.
Herena is happy to report that the faculty has helped with the storage of the books, which had to be stacked in her office last year.
So far, the number of books donated is already on track to equal or better last year's result, and the quality of the books being donated has impressed the pair.
"We've had books for babies, science ones for kids, right up to some great teenage ones. Some people have even bought whole series of new books, which is nice, but even the pre-loved books, which most of these are, are really appreciated by people in Tonga because they want to learn but the lack of resources can be a hindrance," Sione says.
Sione is hopeful that the relationship between the University and Books4Tonga will continue next year.
"We're looking at it being an annual thing, but we'll just wait and see because it is driven by demand from the libraries in Tonga. Once we establish these ones, hopefully the other villages will be on board and if we can get a good supply of books, we'll be able to circulate them around the different villages to keep that reading list fresh."