Eva Hakansson: engineers, electric motorcycles and a need for speed
Dr Eva Hakansson is a lecturer in mechanical engineering who thinks outside the square when it comes to promoting engineering as a career for women.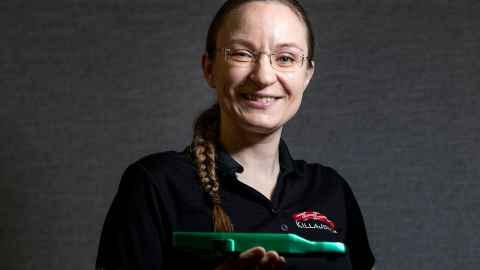 If you bring in sexy fast cars, you bypass perceptions that electric vehicle advocates are tree-huggers.

UniNews sat down with Dr Eva Hakansson to talk about her engineering gene and her need for speed. 
Why don't more women become engineers?
For whatever reason, women think it's not their domain. But they're missing out on high-paying, highly respected jobs where they're treated well. From an engineering perspective, we're missing out on good engineers. I am trying to change the image of engineering. I use what I do outside of work to promote it as a career too.
Tell us about this outside interest of yours.
I became the world's fastest female electric motorcycle rider on KillaJoule, an electric motorcycle I built in my garage. The record I set was 434 km/hr. KillaJoule is a sidecar motorcycle so an odd vehicle category. It's basically a loophole because from a philosophical perspective it's like a car, but it's asymmetric. It's classified as a motorcycle so it runs for motorcycle records. The asymmetry of it is a bit tricky from an aerodynamic perspective because it wants to turn right because of the sidecar. It wants to drive in a giant circle.
There's a photo of you that 'broke your Facebook'. You're using your image, right?
Yes, and I have mixed feelings about it. But it's the hand I was dealt and it's important for girls to see another girl having fun with engineering. The photo in the white dress was actually spontaneous. One of the volunteers brought the dress with her. I didn't have any suitable shoes so I went barefoot. I could only stand on the nose of a KillaJoule as it's the strongest part. Anyway, people liked the photo so I still use it. But I educate girls about STEM in a proactive and encouraging way through my website at scienceenvy.com. I use this and my racing as a kind of eco-activism. If you bring in sexy fast cars, you bypass perceptions that electric vehicle advocates are tree-huggers.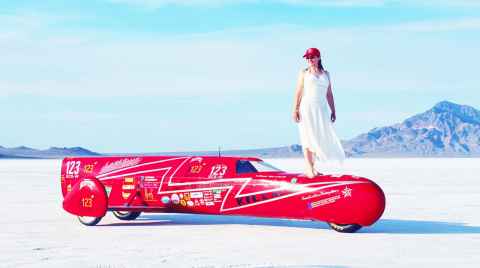 Where did you first set your record?
At the Bonneville Salt Flats in Utah. It's one of the few places in the world where there is that much flat space that no one has built houses on. It floods during winter, then dries up over summer. So the land is useless and that's the only reason it's available. I can only afford to make one record attempt a year on my budget. Now that I'm living in New Zealand, I do my racing at Lake Gairdner Salt Flats in South Australia, but even that is a $30,000 adventure each time. There's a whole land-speed racing community and the first time you set a record over 200 miles per hour (321 km/h) you get a red hat and people prominently display their hats. It's very hard to go 200 miles per hour on the salt because the traction is poor.
You've said you don't actually enjoy the racing. How can that be?
It's complicated. Just because you love the subject doesn't mean you like taking the final exam. It's stressful – there's a lack of sleep and you're in a hot, confined space. It's quite claustrophobic.
Do you have sponsors?
I'm not very good at that although I do have a few generous sponsors, but they don't come close to covering the full cost. My husband Bill [Dubé] is my enabler. Some people have kids. Some have pets. I have a racing programme. It's an addiction.
How did you meet Bill?
We met when I asked him if I could publish a photo of his electric drag bike, the KillaCycle. That was 12 years ago; the rest is history. Our wedding bands are ceramic because it's dangerous to wear metal when working with electricity.
Where are you from?
Originally from Sweden but Bill and I lived in Denver, Colorado, for ten years. We were first invited here in 2010 to race KillaCycle. We met the local electric vehicle (EV) folks, particularly Steve West who runs ChargeNet. In 2016 I'd graduated with my PhD and we decided to do something new and thought 'New Zealand is beautiful, we know people there, EVs are on the rise, why don't we see if we can get a job?' We ended up choosing here because of the EV community. I sent off my CV and was offered this job and have been here two years. I teach computer-aided design (CAD) and engineering drawing to our first-year engineering students. I also take care of the Formula SAE team of about 50 students. Last year they came third in the Australasian competition – they build a whole new race car from scratch every year and race it.
Has it been good here in New Zealand? 
Bill and I define New Zealand as an 'it' country. It's the most fashionable country in the world. There are lots of things going on. Yes it's small and it's definitely not a place to have a bad reputation, but it has a spirit and a 'go and get them' mentality that doesn't exist in Sweden or in the US. Racing wise, I have much greater support here than I ever had in Sweden where they told me it was impossible. Here people say, 'cool, how can I help you?'
You have an engineering gene don't you?
My dad is a mechanical engineer and my mum's an engineer too, as are my brothers. I'm a third-generation mechanical engineer. Dad built racing motorcycles and was the Swedish champion in 1962. He also built an electric motorcycle for Monark during the 1970s oil crisis, so I'd say electric vehicles are a genetic disorder.
What's your next challenge? 
I'm building Green Envy, the successor to KillaJoule, which will be twice as powerful and a metre longer. I have promised to have it ready to race in March. You can read about it at greenenvyracing.com. I'm also reinventing the wheel! I was awarded a new staff research grant in 2018 that has helped fund my research into designing a solid metal wheel with rubber tread elements for traction, for speeds exceeding 1000 km/h. The 'KiWieels' were tested in Australia in March 2019 with very good results.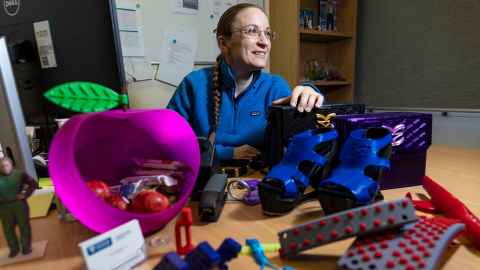 SOME OF THE WORK EVA AND HER ENGINEERING COLLEAGUES DO (VIDEO BELOW)
Eva is on the cover of the August 2019 UniNews. Click this UniNews link to see her in racing gear.