Maurice Wilkins Centre to collaborate with Scientific Research Organisation of Samoa
The Maurice Wilkins Centre (MWC) has signed a formal Memorandum of Cooperation agreement with the Scientific Research Organisation of Samoa (SROS) to establish a joint research centre in Apia.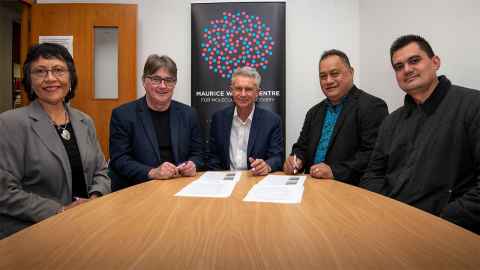 The agreement signing follows a recent visit by SROS scientists to New Zealand to investigate potential opportunities for biomedical research in Samoa, with the help of New Zealand researchers.

"The Maurice Wilkins Centre is engaging closely with Pacific communities in New Zealand, so building research links with Samoa is an important new addition to this strategy," says Professor Peter Shepherd, Deputy Director of the MWC.

"This partnership provides a conduit for researchers throughout New Zealand to link with researchers in Samoa, and to tackle projects that are of mutual interest and importance."

The MWC researchers nationwide will initially be strongly involved in supporting the efforts of the Samoan scientists in biodiscovery research projects looking to identify new anti-cancer or anti-biotic drugs from Samoan plants as natural source material, added Professor Shepherd.

Professor Shepherd says that "Going forward MWC researchers at the University of Auckland will collaborate with Samoan scientists on projects in the area of metabolic disease and genetics in particular."

According to a study published in the journal Diabetic Medicine, the burden of metabolic disease in Samoa has increased markedly in the past three decades. Over the period 1978 to 2013, the prevalence of type 2 diabetes rose from 1.2% to 19.6% in men and from 2.2% to 19.5% in women.

While changes in diet and levels of physical activity are clearly associated with these trends, the extent to which genetics and heritability also strongly contribute are not well understood.

MWC researchers specialising in the genetics of diabetes will be involved in working with SROS on these types of questions with a particular focus on understanding how it might be used to identify new means of preventing or treating the disease.

The Maurice Wilkins Centre is a national Centre of Research Excellence focused on molecular biodiscovery that brings together more than 400 of New Zealand's leading scientists and clinicians to target serious human disease.

The Scientific Research Organisation of Samoa funded by the Samoan government to undertake scientific and technical research with the primary aim of developing new products and technologies that add value to, and benefit, Samoa.