The custodian, comedian, Coral and the cat
Emma Newborn is a full-time custodian and cat carer at the University of Auckland's Old Government House. But she's also a comedian whose one-woman show Coral returns on 3 September.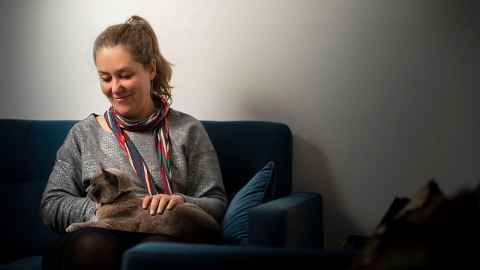 Comedian Emma Newborn hits the stage for Coral, a solo show starting on 3 September at the Basement Theatre. But she's more used to sharing the limelight with a cat.

Emma is the live-in custodian of Old Government House at the University of Auckland. Her feline sidekick is Governor Grey, a noble, attention-seeking, crooked-legged, grey Burmese, who can be found schmoozing students, staff and visitors. Or ignoring them completely. After all, he's a cat.

"He's definitely not a shy cat. He gets more airtime than I do," Emma laughs, from the comfy, quirky lounge of her two-bedroom apartment at the top of the historic residence. While maze-solving skills are required to get to her abode, for Governor Grey it's just a trip up the fire-escape, onto a roof and a slinky move through a cat-door set in a window.

He's partial to catching rats and bringing them in, sometimes twice a day, so Emma has had to make things trickier for him to enter with his catch-of-the-day. She's devised a way in which he needs to drop his prey before entering.

Emma has been Governor Grey's owner for around seven years and thinks he's probably around 12 years old. The stray found her, as cats are wont, and despite an exhaustive search for his owner, Governor Grey adopted Emma.

"He was scraggy and skinny and very lost. He got lucky here and people love him don't they? It's amazing. I see people down in the carpark in summer and he'll put himself right in the middle of that driveway just to get optimum pats."

Governor Grey arrived not long after Emma took the job as custodian at Old Government House, after what was meant to be a three-month trip back to New Zealand following a decade studying and working in theatre in the UK and Australia.

"While I was in the UK, I made three short films about a hobbit who was stuck in London, and I won a competition. The prize was a flight to New Zealand and I thought I'd go back for three months.

"I had a solo show in Auckland's Fringe Festival and then all these things just happened. I met Amelia Guild, who I now perform regularly with in another show called The Bitches' Box, and I got a job working as a puppeteer for the Rugby World Cup. It all just snowballed and then my ticket expired."

She says the custodian job was a case of being in the right place at the right time.

"It's been perfect for me and a great place to write. I wrote this solo show Coral here and I'm always working on something. I'm trying some screenwriting now.

"It's very social as well. Being right in the middle of town, people can come and stay and they love it. I just love the building and it's such a privilege to help look after it. It's so beautiful. You look out every window at the greenery."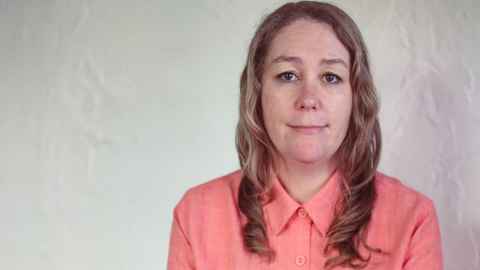 The kernel of Coral
Emma grew up in Avondale and Blockhouse Bay, watching comedy such as Fawlty Towers and Monty Python. "Silly stuff. Usually British. Stuff Dad liked."
Her quirky comedy Coral sees Emma on stage alone for around 50 minutes as Coral Kristofferson, an office administrator from Swanson with a penchant for carpet underlay.
"Coral is based on a situation from when I was in seventh form. I was too late in organising my work experience so my school shipped me out to an office job in a company that made carpet underlay. I just sat there for two weeks and printed out labels. I would go home every night to my parents and I was amazed people could work in an office like that their whole lives.
"So that got me thinking about mind-numbing workplaces and who works there and how do they find joy and happiness in that?"

When Emma went to England aged 19, the kernel of the story grew.
"I was working at a printing company and I learned this woman's job in a morning. She had been there since she was 16 and was well into her thirties. She had two kids and went to Majorca every summer and she was one of the most contented, happy people I've ever met. I started to explore how that could be."
She first performed the sell-out show at the New Zealand International Comedy Festival in May, but says this is a different show.
"Trygve Wakenshaw is a very good friend and works all over the world as a brilliant clown. He's helped me develop it because it was quite an experiment for me performing alone. I want to ramp it up."

Emma says her typical audience is very much the comedy festival crowd. "They're the people who go to Snort at the Basement every Friday night ... they take a punt on shows. The Basement has done an incredible job of building the most amazing comedy community. Comedy in Auckland has become very professional."
She says solo performance requires the audience to become your friend. "That's what I'm really interested in ... that relationship between audience and performer."
She's also involved in creating the set. "I like all aspects of a production. When I was doing The Bitches' Box, which is on pause at the moment while my fellow performer is off having babies, our roadshow was in woolsheds and we did everything – we even ran the bar."
She uses her gift of the gab to good effect as a celebrant too.
"I've married about 50 couples since becoming a celebrant five years ago, but I tend not to seek out funerals," she says. "If you muck up something at a funeral you can really upset people as it's the last thing they remember about a person. Also, you only have a few days to prepare for it."
So with a finger in various performance pies, what does she call herself when she fills out airport arrival forms?
"I make stuff, so I write 'maker'."
Makes sense.

- Denise Montgomery
WHAT: Coral
WHERE: The Basement Theatre, Lower Greys Avenue
WHEN: 3-7 September
A version of this article appears in the September 2019 edition of UniNews.