Suvi Nenonen: why market shaping is important for business
Professor Suvi Nenonen has been researching the concept of market shaping around the world, and shaping a new MBA programme for the University.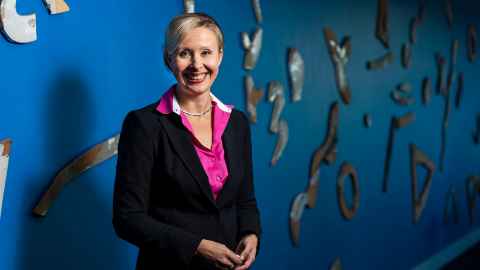 Professor Suvi Nenonen will have been in New Zealand seven years this December, but there's no fear of a seven-year itch.

"Definitely not. We love it here. Kiwis are so genuine and warm. And, compared to the Finns, so optimistic."

She's not talking about our musical brothers Finn, but her homeland Finland. And the 'we' she's referring to is her partner, Professor Kaj Storbacka. The two are professors in the Business School and also collaborate on a lot of research.

"We talk shop over dinner," Suvi says. "It's wonderful to be able to have really difficult conversations with somebody who actually understands and doesn't get annoyed.

"We also research together so that 'Kaj Storbacka' name you often see in my co-authored publications, is him. Yes, sometimes it's annoying that you can't ever get away from your job but having somebody there who you trust implicitly when you're trying to tackle these challenging questions, is also a blessing."

Kaj arrived in New Zealand two years before Suvi, as a visiting professor for six months. Suvi, who has won teaching awards in her homeland, decided to follow.

"I know it's a cliché but I love the great outdoors here. We like tramping and sailing. I came here on a fixed-term contract initially but I genuinely like to contribute to where I am living and where I'm working. So I hope they saw that. Anyway, I'm still here!"

The two countries have some similarities, in population size, for example. "Also Auckland in January is exactly the same as Helsinki in July … there's nobody there because everybody vanishes to summer houses."
Market shaping is important for an economy like New Zealand.
As well as research papers, Suvi has written several business articles and books. In her most recent book, SMASH: Using Market Shaping to Design New Strategies for Innovation, Value Creation and Growth, she apologises to her editor for what she calls her "Finnglish".

"It's a reflection of the fact that I really like language. I really like communication. And when you are using your second language you're painfully aware that you're not quite as elegant and precise as you were in your mother tongue."

Also the fact that her father was a journalist for the Finnish equivalent of the Financial Times probably adds some pressure.

"I've grown up with my father hammering on a typewriter. I have a love-hate relationship with writing and I don't find the process easy.

"But I find writing really helps you polish your thinking. I only start deciding whether my idea makes any sense after I've written it down. And then you can start arguing with it and polishing it.''

She describes her research as that of a social scientist. From 2014 to 2016, she and her collaborative researchers around the world talked to the leaders of 21 market-shaping companies in-depth, in more than 80 interviews. The research was enabled by a 2013 Marsden Fund Grant from the Royal Society of New Zealand.

So what is market shaping? Think Uber and, for the opposite, think Nokia's fall from grace with its mobile phones. Nokia, from Suvi's homeland, plummeted from its position as market leader because it failed to see that the changing landscape of mobile telephony emphasised ecosystems and apps, not just the devices themselves. (It's more complicated than that but you can actually read the book.)

Suvi's research has found that market shapers tend to be companies led by entrepreneurs or people with an entrepreneurial mindset – they don't accept the status quo and want to spark change.

"The other over-represented group was co-operatives, especially consumer co-operatives. I suspect that's because they are very attuned to figuring out what their customers need."
Sustainability goals
In 2018 Suvi won the Business School Research Excellence Award for outstanding strategic impact in research, which followed on from her 2015 Research Excellence Award for research relevance.
The next research focus will be around how to use market-shaping strategies for improved sustainability.
"It's really important that if you want to shape the market, you have to be able to come up with a win-win-win vision so that everybody in your market system benefits from the change that you're trying to drive.
"Often we don't consider society or the environment or the planet. So I'm just really curious about whether we could create toolkits to address some of the sustainability challenges facing our generation.
"Simply greenwashing doesn't really help. We genuinely have to look at our business models so that they would be a win for all sides and a win for the environment."
I'm really curious about whether we could create toolkits to address some of the sustainability challenges facing our generation.
And while research is important to her role as director of the Graduate School of Management, she's also been teaching Strategic Management for the Executive MBA. That's about to change a bit, as the Business School's MBA programme gets a refresh this month.
"We are launching a new MBA programme in September," she says. (Business runs its year in quarters not semesters.) "So Strategic Management will be broken into multiple papers because in the new MBA we are walking away from having one paper in management, one in accounting and one in marketing," she says.
"We are looking at actual managerial dilemmas as in 'I have to understand my operating environment'. So we are bringing in an economist and a legal expert – it's a collaborative approach to teaching.
"Another paper closely related to the paper I am teaching is about how you use your organisational capabilities to your advantage, which is basically the essence of strategy. So we have a strategy person and a marketing person talking about these things.
Contemporary MBA
"Our colleagues came together and thought 'OK, if we wanted to make a really cool MBA, what would it look like?' And one of the themes we were really passionate about was that it should be a bit more contemporary than '101 in marketing' and '101 in finance'."
Most people do the MBA part time and about 50 graduate with an MBA from Auckland every year. The type of person who does the degree is usually a very good business specialist but only in their silo.
"And they have ambition that 'hey, I would like to become a general manager or take more substantial board positions. But to do that I have to understand all the other disciplines where I'm not an expert.

"So this gives people the confidence to talk about things that are outside their area of expertise. So a marketer can have a sensible conversation with their legal counsel, for example."

Suvi's also pleased to note that there's going to be a separate elective course about market making and shaping.

"As our Marsden research identified, market shaping is important for an economy like New Zealand," she says.

But market shapers need to 'know when to hold 'em, know when to fold em' as Kenny Rogers would say.
"The biggest insight has been the balance or tension in trying to change something in a system. You can't know how the system will react so you have to experiment and fail fast and accept that some of your experiments are not going to go anywhere or consider that these market-shaping strategies tend to be multi-year processes – four, five, six or seven years, even decades."

But even if you do have a bad period, as Nokia did, know that you can come back.

"Yes it is possible that you missed the boat. That probably happened to Nokia. However they now have a thriving networks business. So when they realised they hadn't read the market, they sold their mobile phone business even though it was probably emotional and painful.

"The company focused on their successful network and technology business and is still the largest company in Finland."
This story first appeared in the September 2019 edition of UniNews.