Alumna donates to a cause close to her heart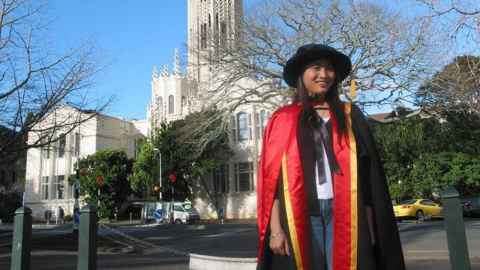 Alumna Minh Nguyen says receiving a call as part of the University's annual Phone Appeal was a pleasant surprise.

A student caller updated her on the latest happenings at the University and talked her through some of the scholarships alumni are able to support.

On hearing about the Refugee Scholarships Fund and the Student Emergency and Wellbeing Fund, Minh was inspired to donate to both of them, to a total of $800.

Minh, who grew up in Vietnam, says she cares deeply about both of these areas.

"Coming from a country that was torn apart by war in the past, I feel strongly about helping refugee students and students from disadvantaged backgrounds like myself. I feel thankful to the University for taking the initiative to establish and raise awareness of these funds so people can contribute."

Minh received the New Zealand Aid Postgraduate Scholarship from the New Zealand Government in 2001, which enabled her to study at the University – setting her on a path she had always dreamed of.
"The scholarship totally changed my life for the better. Coming from a developing country, I would not have been able to pursue my PhD studies in New Zealand without financial support. I count myself very fortunate, I feel I should do more to help those less fortunate, so that they can pursue their goals as well.

"I have always felt grateful for that opportunity and because of that I feel inspired to give back to society and help others in whatever way I can. I also hope I can inspire other people to do the same."

Minh says some of her fondest memories are from her time at the University of Auckland.

"I learned and grew a lot not only professionally but also personally. I made lots of friends, from all different countries. Some have become my best friends and we are still in frequent contact.

"Some years ago I went back to Auckland for an academic conference and I took my child with me. I proudly showed her the iconic ClockTower, the Arts Graduate Study Centre where I wrote my thesis and the old Railway Campus, where I lived. It was like coming home to me…It was very sweet and full of nostalgia."

Minh is now an Associate Professor at the National Institute of Education in Singapore, teaching and researching in the field of second language education.

"I had the privilege of studying under the guidance of leading professors in the field during my time at the Department of Applied Language Studies and Linguistics. The knowledge, skills and especially the passion for research that I developed during my time in Auckland has played a major part in getting me to where I am today. I feel a deep gratitude to my professors for all of this, without their wonderful support and excellent academic guidance, I could not have gotten this far."

Over a 10-week period, 30 student callers made around 18,000 calls to our alumni as part of our Phone Appeal. Some of those were care calls to check in with recent graduates, while the majority of the phone calls were to find out whether our alumni were interested in gifting a donation to the University.

Nearly $70,000 was gifted or pledged, which will go towards scholarships and student support funds.