Hackathon sparks problem-solving for the real world
A hackathon in collaboration with Callaghan Innovation, LEAP Australia, and the Faculty of Engineering produced Internet of Things (IoT) and Augmented Reality (AR)-based solutions to six industry problems.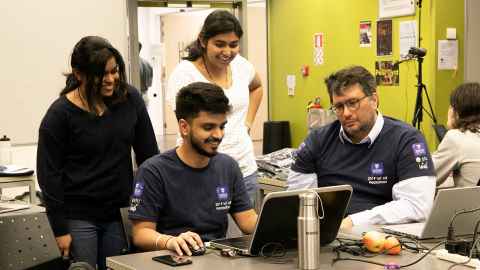 Six student teams participated in the week-long ThingWorx Hackathon, which kicked off with a two-day tutorial session with introductions to the provided IoT and AR software suites, followed by two days of the hackathon itself, and a presentation day. While IoT and AR technologies tend to be associated with software engineers and computer scientists, the hackathon saw over 30 students from undergraduate to PhD levels across our University's Engineering, Science, and Business faculties.
For many students, the hackathon presents itself as a chance to dabble with technology in an environment that privileges exploration and application to a real-world context. Electrical and Electronic Engineering masters students Akshat Chhabra and Nilesh Patel wanted to give the hackathon a go based on its open entry criteria. "The best thing about this was that there's no coding barrier", Akshat suggests. "Automation and robotics are very much the future of what we're doing right now, so it's exciting to be involved."
I've come to university as an adult student and I really want to make the most out of the student experience. I'm interested in futurism and didn't want to get left behind, so robotics and automation is an extension of that. I also realise there's only so much that you can do, so the stuff I do choose to engage with has to be real-world engineering focused stuff. I'm part of the Formula SAE, which is much more mechanical, where is this is more towards the 'tronics', so I'm just fleshing out that mechatronics side.
Connecting with LEAP Australia meant that there was guidance for the student teams on site throughout the five days, including mentors from Callaghan Innovation, industry clients visiting to observe and provide feedback throughout the sessions, as well as LEAP's technical experts in the Microsoft Hololens, the PTC suite, ThingWorx platform for IoT, and Vuforia Studio for AR. Nilesh notes, "the modules LEAP provided for the software was really informative so we didn't need any prior IoT knowledge. The experts also helped out whenever we needed them."
David Graham from LEAP sees hackathons as a sustainable way to test solutions before companies are prepared to implement new technological processes at a larger scale, which can be time and economically-consuming. Providing software that allows optimum speed and ease in prototyping solutions is therefore of priority for the event. "One of the major benefits of using Vuforua Studio over the two days — as opposed to its Engine counterpart, for example — is the ability for students to create AR environments without in-depth programming knowledge. It's a drag-and-drop AR sequencing tool that's essentially a combination of CAD and PowerPoint."
The hackathon also proved to be a valuable experience for students who do not conventionally work together with those outside their classes. "We had our ups and downs, but got through misunderstandings and miscommunications. You really learn how to remain calm, listen to others, and to infuse rather than stick to ideas", Akshat says. Tom, who is working with a team with a Part II student in Computer Systems Engineering and two postgraduate international students, considers, "everybody is bringing something different to the team. When I first started I kinda was a bit of a control freak, but I'm getting better at teamwork."
The Faculty of Engineering is positioned as a leading training ground for skilled engineers in New Zealand, and the hackathon plays right into our expertise. Callaghan Innovation, who engaged with industry for the event, saw our faculty's extensive research partnerships with local companies as an advantage. This is visible in the research work performed by our academic organisers: Dr Vicente Gonzalez, leader of the Advanced Computing and Virtual Technologies in Construction research group, Professor Xun Xu, head of the Laboratory for Industry 4.0 Smart Manufacturing Systems, and Dr David Wynn, leader of the Design and Development research group.
Professor Xu says, "we can't also forget the added experience of business innovation for our students. The problems aren't purely technological; some require a change in business models or redefining value propositions." The problems submitted by industry sponsors — Assa Abloy, NZ Safety Blackwoods, GHD Digital, KanDO/Guardian Bandsaw, Hynds Pipe Systems, and Holmes Solutions — were of a broad variety, from the logistics of stock tracing and recognition, to building brand awareness and customer relationships. Dr Gonzalez considers that the range of submissions, which came from civil to mechanical companies, reveals that these technologies are becoming normalised, and knowing how to apply them is more relevant than ever.
The students were notably able to visit or contact the sponsor companies directly to investigate the challenges. Akshat's team excursion to Aasa Abloy's Albany factory was immensely helpful.
The original problem statement itself was very generalist; they told us their problem but not what they wanted, so it was hard to imagine what simply providing an IoT or image recognition solution would look like. I could've just cited two papers and written a literature review in that case, but meeting their staff and seeing their environment was immediately useful. We got a sense of who they are, which was very organised and on point, with very loyal employees. We could get on the same page with expectations, and come up with what's actually a cost-friendly solution for their company.
To engage in a learning opportunity outside a formal environment — let alone one with a tight time constraint — certainly demands a lot, though its east to witness how valuable it is. David says, "the students are dedicating their time during study break to be here, which is great. It's a lot of commitment". Tom adds, "there's something about putting myself outside my comfort zone, and seeing that I am achieving more than I thought I'm able to. When we got told on Monday what our problems were, I considered pulling out of this! But then on Thursday, I could see an end in sight and I was glad I stuck it out, because it was just really cool."
Andrew Gill, Industrial Associate from the University of Cambridge Institute for Manufacturing served as one of five judges at the event. He says, "I was very impressed with the commitment and enthusiasm of the teams. They covered a lot of ground in a short period if time and I would expect the sponsoring companies to be very happy with the insights and recommendations produced."
Professor Xu considers that "the decision to support this event was an easy one to make. It's a win-win situation for all three parties involved: the software providers propelling IoT/AR technologies into New Zealand industry, local businesses trialling out these solutions for problems they are facing, and our students gaining hands-on technical exposure in real-life situations. It is a no-brainer."