Funding shows breadth of research at University of Auckland
Funding of almost $27 million has been awarded to the University of Auckland for a wide range of research projects affecting the physical and environmental health of New Zealanders.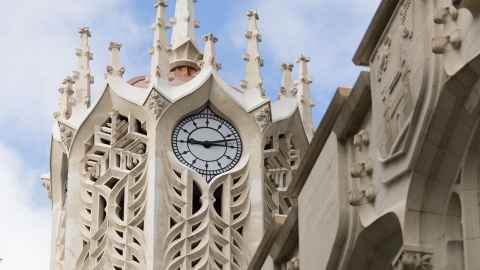 Projects awarded funding this year will investigate water quality, plastics recycling and developing new technologies to mitigate the effects of cancer therapy.

The Ministry of Business, Innovation and Employment announced overall funding for eight Smart Ideas projects of almost $8 million, an increase over last year of $2.2 million.

Along with total funding of $18,893,370 from the Research Programmes fund, ten research projects are awarded a total of $26.8 million for up to five years across education, health, nutrition and climate change.

Senior Research Fellow Tatjana Buklijas from the Liggins Institute is awarded Smart Ideas funding of $978,782 to develop a novel approach to consensual decision-making on issues such as climate change and data use, two policy areas of strong public and political debate.

Two projects under the Research Programmes fund includes $13,676,785 to help prepare New Zealanders in the event of an unprecedented volcanic eruption that causes ongoing disruption in our largest cities.

This work, led by Professor Shane Cronin from the University's School of Environment aims to radically cut down uncertainty and develop new mitigation strategies to transform the way New Zealand responds in the face of the continuous change such an eruption would bring.

Professor Susan Morton from Medical Health Sciences will lead multidisciplinary research into overall wellbeing of vulnerable children and youth. Funded with $5,216,585, this project will involve a diverse group of 6,000 children to address widening inequalities as they emerge into adulthood.

As more and more people are living in cities, new solutions for adequate intrusive noise, particularly at lower frequencies such as the bass beat from music systems, are needed. A Smart Ideas project from the Faculty of Engineering led by Research Fellow Dr Andrew Hall receives $991,095 to develop a lightweight building partition system to reduce building noise pollution levels.

Other Smart Ideas projects to receive funding include development of personalised medicine for movement disorders such as stroke so that clinicians can rapidly and accurately generate biomedical models of the muscles and bones of individuals to classify walking gait, which receives $999,948 and is led by Associate Professor Thor Besier from Auckland Bioengineering Institute.

A major project in the Faculty of Education and Social Work, led by Professor Susan Kemp, receives $982,854 to co-design a Kaupapa Māori protocol for more effectively realising Māori children's participation in the child protection system. Also awarded Smart Ideas funding is a project to use bacterial enzymes to biodegrade plastics widely used in drink bottles. This project is led by Associate Shaun Lott from the Faculty of Science and receives $997,191.

Vice-Chancellor Professor Stuart McCutcheon says successfully funded projects in such vital areas show the breadth and innovation of the research being done at the University of Auckland.

"The quality of our science is not only world class but highlights the very broad range of work being done at the University and I warmly congratulate staff who have received funding this year," he says.