What sustainable architecture actually looks like
An exhibition featuring the 2019 recipients of the world-renowned Aga Khan Award for Architecture showcases the kind of architecture that really does make the world a better place.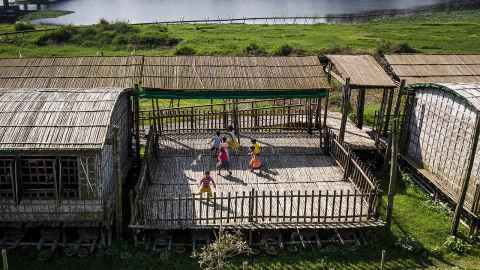 The exhibition is hosted by the School of Architecture and Planning, as part of the Festival of Architecture.
Every three years, the award, established in 1977, recognises projects of design excellence in architecture, planning practices, historical preservation and landscape architecture, and which successfully address the needs and aspirations of societies in which Muslims have a presence.
The University of Auckland is one of the first institutions, worldwide, to host a travelling exhibition depicting the most recent award-winning projects. It features the 20 shortlisted nominees, including the six recipients who will share the US 1 million prize between them.
Winning projects include a floating preschool, a wetland centre that looks as if it is submerged into the ground, and a national programme involving the revival of over 300 public spaces. 
In the Arcadia Education Project, a preschool made of bamboo, the architects have responded to the riverine site that is flooded for five months every year with an amphibious structure that could sit on the ground or float on the water, depending on the weather.
The Wasit Wetland Centre, in Sharjah, UAE, was part of a restoration project in which a wasteland was transformed into a wetland. In their design of the visitor centre, the architects took advantage of the site's natural topography to minimise its visual impact, making it appear submerged into the ground.
The Alioune Diop University Teaching and Research Unit, in Bambey (Senegal), responds to the challenging environment with the design of a double roof canopy and latticework building that avoids direct solar radiation but allows air to flow through it.
The Public Spaces Development Programme, involving the revival of 328 public spaces all over Tatarstan is an ambitious programme that sought to counter the trend toward private ownership by refocusing on quality public spaces. It has become a model throughout the Russian Federation.
"These highly prestigious Awards continue to celebrate exceptional architecture and creativity," says Dean of the Creative Arts and Industries (CAI), Professor Diane Brand.
"We are proud to facilitate the exhibition of an innovative body of work from around the globe, which can serve to educate and inspire our students, our profession and the wider public. The recognition of the diversity of cultural design practice serves to broaden our experience and understanding of the built environment."
Hosting the exhibition is one of a number of initiatives through CAI has partnered with the Aga Khan Trust for Culture.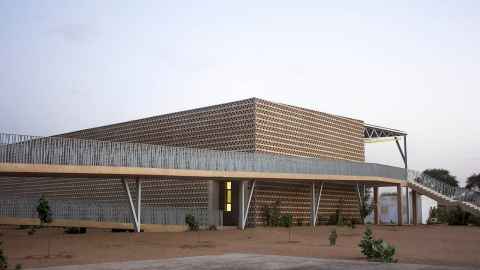 Aga Khan Award for Architecture
25 September – 6 October, 11am-4pm, open daily
George Fraser Gallery
25A Princes Street
Auckland Central