Starship doctor becomes Doctor of Music
Nearly 40 years after graduating as a medical doctor from the University of Auckland, Dr Louise Webster has become a doctor again, this time in music.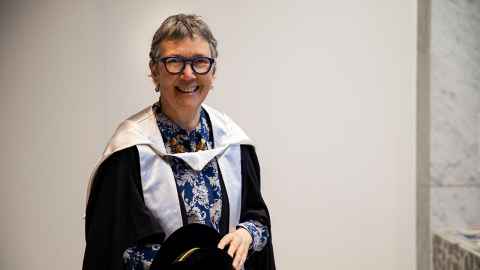 The head of the consult liaison, palliative care, and pain teams at Starship Children's Hospital is also an avid composer, pianist and violinist.

At Starship, Dr Webster works with children with chronic medical conditions, which can range from cancer to asthma. In particular she supports the mental health needs of children and their families. Writing music has been her own source of mental support.

"It's a varied job, a great team, but you do have to pay attention to your own support, resilience and ways of coping, and managing the sadness and grief. That is so for anyone who works in child health. Having outside interests is very important for doctors in order to not burn out," says Dr Webster.

"Music is my place for replenishment, it's an enormous support to me personally, both playing and writing music," she says.

Dr Webster received the only Doctor of Music awarded at the University of Auckland's Spring Graduation on Tuesday, an advanced composition and research programme equivalent to four years of full-time study, which she completed over eight years, finally fulfilling a lifelong desire to master composition as well as medicine.

"I had a debate with myself as a child whether I was going to go to medical school or pursue composition. In the end I chose medicine, because I naively thought if I go to med school I can still do music, but not the other way around. I also had very good bursary marks in music, which ironically got me into medical school because back then your entry was based on your bursary overall rather than specific subjects," Dr Webster recalls.
Music is my place for replenishment, it's an enormous support to me personally, both playing and writing music
But her passion for music never waned. She took a year off from med school in 1975 to study piano performance with Judith Clark at Victoria University before returning to the University of Auckland to complete her Bachelor of Medicine and Bachelor of Surgery (MBChB). But she also studied piano with the late concert pianist, Associate Professor Janetta McStay.

She established her career as a paediatrician and child and adolescent psychiatrist, and had four children before returning to the University in 2003 as an undergraduate in composition, beginning the course of study that would finally lead to her doctorate in music.

"I didn't need a doctorate as such, I didn't need it for my job or income, or to open any work-related doors, but it has been invaluable for my journey as a composer," she says.

"Writing music can be very isolating and it was a way to have ongoing tuition and support and critical appraisal from people I really respected, like Leonie Holmes and Eve de Castro Robinson."

Dr Webster's career in music is as impressive as her achievements in paediatric medicine. She has composed for the Auckland Philharmonia Orchestra and her works have been recorded by the New Zealand Symphony Orchestra. She is also a member of the St Matthews Chamber Orchestra and the New Zealand Doctor's Orchestra, a mix of amateur and professional musicians.

Her experiences in clinical settings often influence her work with themes of grief and loss working their way into her compositions.
Her piece, Cries of Kathmandu for six voices and string quartet, was inspired by her time volunteering at Sir Edmund Hillary's Himalayan Trust hospitals in the foothills of Nepal.

Cries of Kathmandu was performed by the Song Company of Australia and the New Zealand String Quartet at the Adam Chamber Music Festival in 2015.

Her other major works are Where Moons Circle and Burn for soprano and orchestra, performed by Elizabeth Mandeno and the Auckland Philharmonia Orchestra in 2015; and In Hollowed Bone I Hear the Seas Roar, concerto for violin and orchestra performed by Helene Pohl and the St Matthews Chamber Orchestra 2016, and also recorded by Yuka Eguchi and the New Zealand Symphony Orchestra in 2017.

"Writing music was always something I did on the side, I was a doctor first and a composer second, but now I can say I am both."